CNIO Network Advisory Panel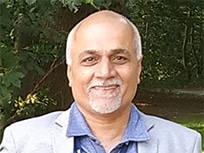 Bipinkumar Rathod, Clinical and Nursing Informatics Specialist, East Suffolk and North Essex NHS Foundation Trust
Registered Nurse since 1992.Registered General Nurse (NMC-UK) since 2005. Ph.D. in Digital health Innovation, MBA Health Informatics, BSc Nursing education, and administration. Clinical and Nursing Informatics Specialist in Critical Care Unit ESNEFT, NHS, UK. Leadership positions in hospital, nursing, and healthcare, clinical informatics projects- 20years.
An active participant at the national, international level in clinical and nursing informatics related projects, research, workshops, startups, mentorship, academia, government initiatives, scientific committees in the area of smart health, e-health, m health, e-Governance, health, and clinical analytics, IoT, digital transformation, enterprise architecture, enterprise-wide business intelligence in hospital, public, population.
Jacqueline Davis, Clinical Adoption Specialist · System C Healthcare

I have been in nursing for over 35 years in a variety of roles, ending my time in the NHS as a Head of Nursing. With few digital nursing opportunities within the NHS, none at senior level, 6 years ago I went to work with a healthcare technology company. Since then, my role has primarily been to support hospitals across the country to plan for, safely implement and optimise clinical digital functionality.
Dione Rogers, CNIO, Kettering General Hospital NHS Foundation Trust
Experienced leader and CNIO. Registered general nurse for twenty six years. Women in Tech Excellence Award 'Digital Leader of the Year 2020', Florence Nightingale Digital Scholar 2021, and CNIO influencer.
Experienced nurse and leader with a demonstrated history of working in the hospital and healthcare industry. Bachelor of Science (BSc) in Professional Practice from the The University of Northampton. Currently studying Healthcare Analytics and Artificial Intelligence MSc at Sheffield Hallan University. Chair of the Midlands CNIO network.
Thrilled to have recently received CNO Silver Award for services to digital nursing from Ruth May.
Euan McComiskie, Digital and Data Lead, Chartered Society of Physiotherapy
I qualified as a Physiotherapist in 2007 working in clinical roles before my journey with clinical informatics began in 2012. I worked at regional and national level in Scotland before moving to the Chartered Society of Physiotherapy in 2018. My role at the CSP is to improve physiotherapists' informatics knowledge and skills and to drive informatics inclusion in policy and strategy.
I am a member of the PRSB Advisory Board, Digital AHP Steering Group, Clinical Genomics Leads Group, and International AHPs Digital and Data Collaboration. I am a Fellow of the Faculty of Clinical Informatics.
Hayley Grafton, CNIO, The Royal Marsden NHS Foundation Trust

First and foremost I am a Nurse, with a passion for improving healthcare with technology, I am also a mother of 3 and currently the CNIO at The Royal Marsden Hospital, leading Nursing, AHPs and Patients through our ambitious digital transformation program.
I have a clinical background in Intensive Care Nursing/Practice Education, Palliative Care and I was the Trust Lead for Sepsis. During my time as an Intensive Care Practice Educator, I served as the Nurse Lead for a local EPR implementation, and this was where my passion for health informatics was born. In addition, I have co-edited the most recent edition of the Royal Marsden Manual and I am currently studying Digital Health Leadership with the NHS Digital Academy.
Helen Balsdon, CNIO, Cambridge University Hospitals

Helen is an experienced senior nurse with over 30 years' experience. Currently, Helen is CNIO, a strategic role working across the organisation providing clinical leadership for all aspects of informatics, including implementation and use of the electronic patient record, Epic. Helens' work has played a significant role in CUH achieving a high degree of digital maturity and HIMSS EMRAM stage 7.
Helen is passionate about using technology to support the delivery of high quality, evidenced based nursing care and empower patients in managing their own health.
Misbah Mahmood, Digital Midwife, Leeds Teaching Hospitals NHS Trust
As a digital midwife leading and implementing digital change across Leeds Teaching Hospitals and Local Maternity System (LMS), my aim is to provide safe quality care to women and their families.
I have successfully lead on several large projects across acute and community maternity services. My goals are to engage vulnerable groups more with using digital technology and to improve data quality.
Since being in my role as a digital midwife, I have experienced how powerful regional and national networking is. I am a member of the Digital Midwives Expert Reference Group and chair of the LMS digital midwives subgroup.
I am honoured to also be a 2021 Florence Nightingale digital scholar and this is where my interest in joining the panel came from. During the course of my scholarship I have had the opportunity to network with inspirational colleagues. I have attended the CHIME leadership course.
I was inspired by how passionate the digital nursing voice was when I attended Rewired 2022 and I continue to be vocal about how digital midwives need to follow our nursing colleagues to pave a similar path. This year my article 'how digital midwives are improving care for mothers and babies' was published on the NHS website.
I will continue to use my voice and passion as a digital midwife to emphasise the importance of our vital role in driving digital transformation.
Louise Hicks, CNIO & Director of Development, Barts Health NHS Trust

Professor Louise Hicks is the CNIO and Director of Development at Barts Health NHS Trust, London. She was recently awarded an Honorary Doctorate for her contribution to Nursing innovation and digital transformation. Her career has taken her across the globe learning from health care systems in the US, Australia & Europe.
She is a Registered Nurse, teacher an Executive Coach, Advanced OD Practitioner and QI lead. She has led clinical and academic development and in her university role became the Associate Dean in the Institute of Health Sciences. Louise is known for her positive engagement, putting people at the heart.
Matthew Little, CNIO, Worcestershire Acute Hospitals NHS Trust


I am currently employed as the CNIO at the Worcestershire Acute NHS Trust. My nursing experience over the last 25 years spans across 3 Acute Trust includes ITU, theatres and the acute medical division, delivering care while holding multiple posts including Matron and Quality Lead.
During my clinical roles I have been a keen advocate for technology to ease the everyday management of patient care, both directly and indirectly. Academically I have a degree in advanced clinical practice. Postgraduate Certificate in Healthcare Leadership as part of the NHS Leadership Academy (Mary Seacole award) and a Masters in leadership and management
Sarah Hanbridge, CCIO Nursing & AHP, The Christies NHS Foundation Trust

My clinical background is Acute Medicine, I am a Registered Adult Nurse & Lecturer/Practice Educator. I am also a qualified Coach. A Florence Nightingale Digital Scholar 2020, & FNF Mentor for the 2021 cohort. I initiated the first Northwest CNIO Regional Network in Sept 2020; which I currently chair and working collectively & collaboratively with other CNIO's to shape the nursing & AHP agenda.
Networking has been empowering & many benefits have been realised. My leadership style is inspire & motivate others to achieve the required outcomes, whilst trying to push boundaries to influence and shape the future nursing strategy.
Sarah Newcombe, Chief Nursing Information Officer (CNIO), Great Ormond Street Children's Hospital

Sarah has been CNIO at Great Ormond Street for 3 years, and was privileged to lead the clinical teams through a Trust wide implementation of an enterprise EPR, which led to HiMMS level 6/7 accreditation. Prior to that she held clinical leadership roles within the Trust where her passion for digital Transformation began.
Sarah has been part of the Digital Health CNIO network since 2017, joining when she was awarded the Digital Health London Pioneers award for Digital Leadership. Sarah is keen to support our diverse workforce to use data and incorporate technology to improve the way we deliver care.
Simon Noel, CNIO, Oxford University Hospitals NHS Foundation Trust
After qualifying in 1986, Simon spent 20 years working in Adult Intensive Care, becoming a Charge Nurse. It was at this time he became involved in digital healthcare when he led the management of an intensive care patient information system. Following this, he worked with Blood Transfusion, to help enhance and deploy a bedside electronic transfusion system. Since 2017, he has been the Chief Nurse Informatics Officer at the Oxford University Hospitals NHS Foundation Trust, with others, leading the development of the digital record system and to reinforce the presence of Nursing as a voice in organisational Digital decision making.
Patricia Goy, Executive Nurse, InterSystems
I started my career as a nurse, and later qualified as a midwife. Hard to believe now, but a change of location left me with no opportunity to follow my career in midwifery, and I happened into Health Informatics. Before I knew it, Health Informatics became a passion. I am employed by InterSystems in the role of Nursing Executive, where I am immersed in the challenge of sharing with clinicians and others, the value of the solutions we provide. I love my role and hope to continue sharing my passion in an ever changing, and challenging environment.