The roll-out of 800 netbooks at Cardiff and Vale University Health Board means community and mental health staff can view and update patient records on the move.
Infrastructure
Poole Hospital NHS Foundation Trust has gone live with Kainos' Evolve electronic document management system to host scanned versions of paper patient records.
Infrastructure
Imperial College Healthcare NHS Trust has upgraded its desktop environment in preparation for the roll-out of Cerner Millennium clinical functionality later in the year.
Infrastructure
All NHS hospitals, health centres and GP surgeries in Worcestershire will receive IT support from independent provider Computacenter as part of a five-year agreement worth up to £18 million.
Infrastructure
GP practices in Bath and North East Somerset are using a mobile solution provided by Targett Business Technology to support weekend services.
Infrastructure
Croydon Health Services NHS Trust has gone with SynApps Solutions to provide a vendor neutral archive to store data, beginning with X-ray images.
Infrastructure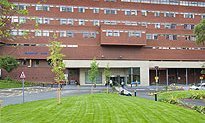 Leeds Teaching Hospitals NHS Trust has implemented new software to reduce the misuse of medical devices in its hospitals.
Infrastructure
The opening of Glasgow's new £842 million super hospital has been a "catalyst" towards moving to a paper-free environment, its IT lead has said.
Infrastructure
Glasgow's new £842 million super hospital opened its doors this week with 26 robot porters operating in the basement.
Infrastructure
Buckinghamshire Healthcare NHS Trust has completed the roll-out of a new mobile technology tool provided by Vodafone and TotalMobile for its community nurses and midwives.
Infrastructure