Special Report: Diagnostic digital pathology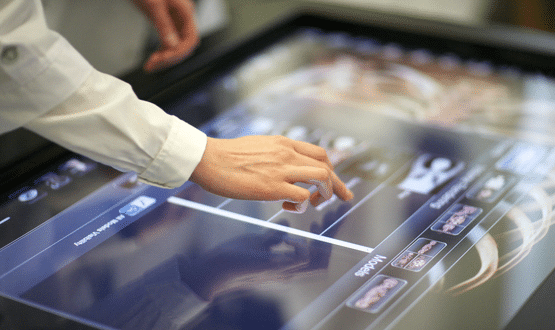 While experts welcome the current interest in diagnostic digital pathology, they believe that implementation of digital workflows, which includes integration between systems and software, is key to achieving widespread adoption and driving improvements. Claire Read reports.
As a key voice in digital pathology, Darren Treanor admits with a chuckle that people probably expect him to have foreseen the "absolute explosion" of interest in the field over the past 12 months.
But after over a decade as one of the few UK pathologists using the technology – in which slides are scanned into a computer for review, rather than being viewed on a glass slide down a microscope – he and others had become used to waiting for a moment which seemed determined not to arrive.
"There was a frustration within the community that digital pathology wasn't reaching tipping point and it wasn't being adopted," reports Treanor, a consultant histopathologist at Leeds Teaching Hospitals NHS Trust. "Within the industry it was becoming a significant issue, because they were investing money in it and not seeing it being adopted."
Widespread change
And then things changed – or, more accurately, lots of things did. Together, they have given optimism that digital pathology might finally be close to more widespread adoption.
Some developments are national and international in scope: among them, the US Food and Drug Administration's April 2017 approval of digital pathology for primary diagnosis; support for the technology in the August 2017 UK life sciences industrial strategy; and the Royal College of Pathologists' issuing of a formal strategy on the topic that same month. (The College also announced it would be appointing a clinical lead for diagnostic digital pathology – the successful candidate: Treanor.)
The march has been further aided by improvements in the technology. "It's definitely more mature than it was even four or five years ago," says Treanor. "The scanners are more reliable, the viewing software is better, and so it's more suitable for purpose."
He also speaks of some key organisations that have "led the way in normalising it, or at least showing it can be done".
Falling into that category would be the University Health Network (UHN) in Toronto. The organisation runs four core hospitals in this major Canadian city, but has also increasingly been building partnerships with other institutions in the province of Ontario.
"As a multi-site academic healthcare organisation, UHN is ideally suited for digital pathology," argues Andrew Evans, staff pathologist at UHN and the director of the organisation's telepathology programme since its 2003 inception.
Similar models
When he describes how the organisation came to using digital scans of slides, it is a story which will be familiar to many of those working on the other side of the Atlantic.
"There were initially pathologists sitting at three of core sites, because at one point all of these hospitals were independent and had their own pathology laboratories. Over the last few decades, the ministry of health for the province of Ontario has been encouraging hospitals to find efficiencies by forming networks and consolidating services." Just the sort of development which has long been recommended in UK pathology, then.
At UHN, there is a sub-specialty pathology model – in which pathologists have specific expertise in specific areas (Evans, for instance, is a genitourinary pathologist). "We had to look at how to provide sub-specialty pathology coverage across the various partner sites, without having people necessarily wasting time going back and forth between sites, or having the risk of slides becoming lost or broken if they were shipped."
Enter digital pathology. With slides scanned and made available via computer, Evans and his colleagues are now able to review cases from wherever they are. For surgeons at Timmins and District Hospital – which is 425-mile drive to the north of Toronto – that means access to expertise they often simply did not have before.
"At any given time there is only one pathologist on site there, and one week out of every month there is no pathologist on site," explains Evans.
And so for the past few years, UHN pathologists have used digital to review intraoperative frozen sections when there is no-one available to do so on the Timmins site. These are samples taken during an operation, with a view to making a diagnosis on which the surgeon can immediately act.
"Prior to implementing digital, the surgeons would have to make a decision based on their surgical acumen as opposed to having input from a pathologist. So we've given them something they didn't have before."
Improving efficiency
This all leaves Evans in no doubt that digital pathology can improve patient care and efficiency. Alexi Baidoshvili shares that position. He's a clinical pathologist at LabPON, Laboratorium Pathologie Oost-Nederland – the pathology lab for the East Netherlands.
It's been digital since 2005, and is now 100% so for histology. He reports significant benefits in diagnostic time, since it's possible to distribute cases more efficiently and for pathologists to benefit from what he calls "handy tools" in the diagnostic software.
It also helps that you no longer need pathologists to be in the same place as a glass slide to offer an opinion on a case.
"Internal and external consultation is much, much faster, and when clinical colleagues have a question about a case we can give an answer immediately because we have access to the images."
But he is at pains to point out that throwing out your microscopes and putting in a digital slide scanner doesn't immediately release all those benefits. "Most of my colleagues make a big mistake – they think that if you go digital, you change your logistics [in how you get the image] to the pathologist. It's not true: you need to adapt the entire process in your laboratory."
"Initially people think it's about scanners," agrees Hans Driessen, marketing and communication manager at Philips Digital Pathology Solutions – which supply the technology at LabPON.
"It's not about scanners; it's about implementing a complete new workflow, and how do you shift from your current analogue workflow to a digital workflow. So it needs to really be embedded and made specific and optimised for a specific organisation or laboratory."
Integration is key
Part of that will involve ensuring there is integration between laboratory information management systems (LIMS) – used to track samples, equipment and report results – and any digital pathology software.
"I think digital pathology is a disruptor that could provide some transformation to the way pathology is delivered today," argues Martin Wilkinson, director of product introduction, strategy and user adoption at InterSystems. "But it can only really be effective if any ancillary systems that laboratories use complement its use and adoption."
It is a point with which Treanor has some sympathy. "Integrating existing workflows in the systems we've got in labs is the real challenge, and laboratory information systems are perhaps not the most-highly invested in things around the country."
He argues there is a need to put resources into "the [computer] networks, the hardware, the software and the people" if digital pathology is truly to become widespread in the NHS. But he is optimistic about the path ahead.
"I'm pretty sure that if you look forward a year, there will be a lot of places with a scanner. And I think that within, maybe, one to two years we'll have several significant-sized networks doing meaningful amounts of digital pathology. Then within five years I think we will see more places doing 100% digital, which is what we're doing at Leeds."
That sort of assessment seems to be borne out by the experience of staff at Philips, who say they have received a significant uptick in the number of enquires they are receiving from the NHS about their solutions.
"There's been a very big shift change in the last year to 18 months," says Matthew Burke, a UK-based sales manager for digital pathology solutions. "And it's not just: 'We're interested, we're thinking about it'; people are really pressing forward to move on with this."
For Treanor, who has worked in this field for 15 years, the current impetus is exciting. "But it's also so much pressure and expectation at the same time. There's a real need to deliver now – we need the [clinical and IT] professionals to deliver effectively, but industry needs to develop good working products that meet these needs.
"There's a lot of expectation as well as opportunity," he concludes.