Special Report: Radiology Information Systems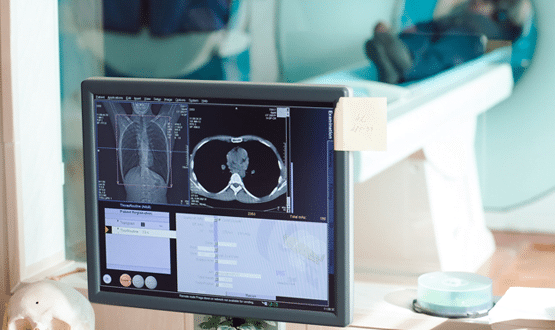 With the shortage of radiologists showing no signs of abating – and the demand for scans increasing year on year – attention understandably continues to fall on how technology might help. Can radiology information systems be the key to better management of workload? And will artificial intelligence make a difference? Kim Thomas reports.
Last year, the Royal College of Radiologists revealed figures showing an "increasingly desperate situation in UK radiology". A shortage of radiologists – one in 10 radiologist posts were vacant in 2016 – was said to make late hospital diagnoses and delayed scan results a "very real likelihood for patients". In the same year, the NHS paid £88m to third parties for out-of-hours reporting of X-rays and scans.
As the number of scans taken every year continues to increase, the difficulty in meeting demand is worsening. Tackling the shortage of radiologists is a long-term project, but in the shorter term technology has the potential to help in two main ways: by sharing the reporting workload across NHS trusts, and perhaps by using artificial intelligence to automate some of the work currently performed by clinicians. Radiology information systems are integral to making those changes.
Since the National Programme for IT roll-out of PACS in 2004, the ability to share images and workflow has been an ongoing challenge. The Image Exchange Portal – launched in 2010, ultimately adopted by every acute trust, and now owned by Sectra – has proved a useful solution but also an imperfect one.
The wish for a complete picture
Mark Griffiths, consultant paediatric radiologist at University Hospital Southampton NHS Foundation Trust, says: "If I know an image is there I can get it pretty quickly [using the IEP] but I have to know it's there. Do I know it's going to be useful til it's sent to me? Not necessarily."
He adds: "What a radiologist wants is a single system that displays both their own images and somebody else's images in one patient context."
Another limitation is that, for a complete picture, a radiologist needs to see a patient's reporting history as well as images. Stephen Fenn, consultant radiologist at Hampshire Hospitals NHS Foundation Trust, argues that when the NPfIT contracts – which split England into five regions (including London) – were in place, it was easier to share workflow than it is now.
"Within those regional boundaries, we had a shared RIS, so I could see the full imaging history for Southampton and Basingstoke and for the other hospitals as part of our area."
After NPfIT ended, a number of trusts formed consortia to buy picture archiving and communications systems and RIS from single vendors, making sharing easier. The Cheshire and Merseyside consortium, for example, adopted a single instance RIS from HSS, now Wellbeing Software. The EMRAD consortium of eight East Midlands trusts adopted a cloud-based RIS and PACS – though not without challenges. The Yorkshire Imaging Collective, also composed of eight trusts, is currently implementing an enterprise imaging platform from Agfa Healthcare.
The benefits of these types of collaboration are said to include vastly reduced outsourcing costs, as well as a smoother, more efficient workflow.
But these small regional consortia, while valuable, have their limitations, Fenn argues. "You could be on the boundary of three or four different groups, and none of those groups will actually talk to each other properly," he says.
"Increasingly convoluted" pathways
The patient pathway is "increasingly convoluted", explains Fenn, with cancer patients often receiving treatment at regional specialist centres. And if a patient arrives at A&E with a stroke, for example, his hospital has to send imaging to the neurology centre in Southampton to review. "If we can't easily send the whole image history of the patient down, then the clinicians can't really give a full or useful report."
The use of vendor-neutral standards is key to solving this problem. Both the main standalone RIS vendors in the UK, Soliton and Wellbeing Software, have developed solutions that enable multiple sites to share radiology reporting, even if they're using RIS from different vendors.
By adopting these types of solution, says Wellbeing director Chris Yeowart, the NHS could create regional teleradiology networks, saving trusts millions of pounds. Scottish trusts have already adopted Soliton's Share+ solution to share reporting. The solution also manages payment of radiologists, enabling retired radiologists to sign up to do a few hours' reporting a week.
Bob Childe, national sales manager at Soliton, believes that a system for sharing radiology workflow should be adopted nationwide. "We need to get to a 24/7 health service where radiologists in London can report from Yorkshire. You need a national RIS to manage that."
The difficulty, he acknowledges, is that without a national body to sell to, the logistics of collaboration between trusts and vendors make it unlikely to happen.
It ain't over til it's over
In recent years, there have been suggestions that RIS might disappear altogether. An electronic patient record (EPR) can take care of the scheduling function, the argument goes, and including the reporting element in the PACS makes the job of the radiologist easier and remote reporting more straightforward.
Fenn thinks it's a "a difficult time" for RIS manufacturers. "If PACS could provide a worklist that does what I need, then actually most of the time I don't really need the functionality of a RIS."
But the disappearance of the RIS is by no means a foregone conclusion. Childe argues that PACS-driven reporting is popular in Europe for financial reasons: a detailed report that includes graphs is more valuable than a few lines of text. In the NHS, the financial motive simply doesn't exist.
From the point of view of the referring clinician, says Griffiths, there is a downside to PACS-driven reporting. "Lots of the nice clever stuff about reporting in PACS is about the linking to images, which is great from the end user point of view when they're in PACS, but no use when they're not in that environment – when they're sitting in an EPR or a GP surgery without access to PACS."
Childe argues that, far from being phased out, RIS is expanding – disciplines such as cardiology, obstetrics and pathology are starting to adopt the RIS, with vendors providing specific workflow modules tailored to each discipline.
The march of AI
While cross-trust workflow is one important way of addressing the increased demands placed on radiology departments, there has also been much excitement over the potential of another technology: namely artificial intelligence.
Fenn believes it is still early days for AI because of the "significant regulatory hurdles" but he agrees that it is vital "for both improving the quality of the service we provide and also for digging us out of a rather large resource gap".
Although he doesn't see AI replacing radiologists within the next 10 years, he does believe that it will help with prioritisation of work. He thinks it will act as a triage system for patients so that the more serious cases are dealt with first, by a radiologist.
Certainly, it is an area that vendors are working on. Matt Smith, product director at Wellbeing Software, says that a number of AI companies already have algorithms that enable them to do basic reporting work. So the algorithm will be able, for example, to read a set of chest X-rays and classify a proportion of them as normal, allowing the radiologist to focus on the remainder.
Treated like a trainee
Wellbeing now has a platform that enables an AI algorithm to report directly into its RIS. The algorithm is treated in a similar way to a trainee, says Smith. Once, say, 1,000 studies have been checked, then it's possible to have the confidence that if the algorithm has designated an image as normal, it is normal. Because AI is able to "learn" from its errors, over time its abilities to suggest diagnoses will become more refined. Wellbeing is about to take part, along with AI partners, in a pilot with NHS trusts, though the sites have not yet been announced.
Agfa is also looking at the possibilities offered by AI (which it refers to as augmented imaging). The company's enterprise imaging platform already uses a task-based rules engine to automate certain administrative tasks. It has now developed AI algorithms to detect tuberculosis on chest X-rays, which it has piloted in conjunction with the Dubai Health Authority. Anjum Ahmed – Agfa's global director, imaging information systems – says the firm is also partnering with AI companies which need the workflow engine offered by its product, and with hospitals and research institutes developing their own algorithms.
The problems caused by a radiologist shortage are not insoluble: a willingness to embrace data sharing standards at a national level, combined with use of AI tools, could make a bit difference. AI in particular represents a "huge opportunity" for the NHS, Ahmed says: "With the workload on radiologists, and the backlog of unreported X-rays, if you are able to isolate the normals versus the abnormals, it changes the whole productivity paradigm."