Special Report: Imaging PACS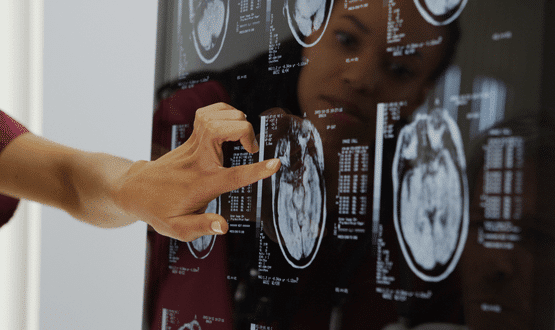 The Long Term Plan formally enshrines the aim to create diagnostic imaging networks. As Jennifer Trueland reports, such setups will be underpinned by the smart use of technology – and some areas are already showing the way on this front.
Tucked away on page 98 of England's NHS Long Term Plan is one small paragraph with potentially big implications.
Section 5.28 commits the NHS to developing diagnostic imaging networks to "enable the rapid transfer of clinical images from settings close to the patient to the relevant specialist clinician to interpret". This will happen by 2023 and will be based on open standards infrastructure.
Although the plan doesn't specifically mention it, this will also rely on efficient and effective use of picture archiving and communications systems (PACS).
While PACS technology is now commonplace across the NHS – some say this was one of the very few tangible benefits of the controversial National Programme for IT – current and next generation versions will be expected to do more.
The technology will have to flex and stretch to enable sharing of images over much greater areas than a single hospital, trust, or even region – and it will have to be based on open standards.
In practice, this small paragraph formalises what is already happening in many areas of England and, indeed, the rest of the UK. Radiology networks – involving radiologists working together, sometimes over significant geographical areas – are in various stages of maturity, and are already showing benefits for patients, and for NHS organisations and staff.
Driving benefits
According to Nick Hollings, a consultant radiologist at Royal Cornwall Hospitals NHS Trust, there are several reasons to join together. "The idea is that you can spread the workload and bolster scan reporting, which is important because demand is increasing and there's a shortage of radiologists.
"Another driver is that increasingly health services are working in clinical networks – for stroke or neuro-oncolocgy, for example. Image sharing is a necessity so that multi-disciplinary teams [on different sites] can see the imaging history of the patient they are discussing."
Technology enabling images to travel between sites has transformed this situation, he says, pointing out that even five years ago transferring images could involve burning them on to CDs and posting them between hospitals.
In the South West, as in much of the country, a network has grown up almost organically, involving the five acute trusts in the region. All are working on the same radiology information system (RIS) and PACS.
Practical benefits have included cutting down on duplication. For example, previously if a patient had been scanned locally then sent to the regional trauma centre, a lack of image sharing would mean the CT would have to be repeated.
Same destination, different routes
Radiologists in the South West are not the only ones taking the sharing route. The East Midlands Radiology Consortium (emrad), for instance, is designed to give clinicians access to more than two billion images via one IT platform.
"Reporting radiologists, and physicians from other specialities, can access, diagnose and report on images anywhere in the network, with no need for additional software or equipment," explains Stephen Bromhall, general manager, Northern Europe, enterprise digital solutions at GE Healthcare – which provides the technology for the consortium.
"So, for example, a paediatric neuroradiologist can immediately review and report on neurology images acquired at another hospital, rather than there being substantial wait time until this image reaches the relevant specialist, as previously.
"Creating imaging networks in the NHS is bringing several benefits for the patient and for the institution, from clinical to operational and financial outcomes," he argues.
The Royal College of Radiologists has gone as far as to publish advice (with the catchy name "Who Shares Wins") for those looking to work together more closely over geographies.
Charlie McCaffrey, managing director at Carestream Health UK, says that trusts want to see the benefits of collaboration, but are taking different routes to try to get to that destination.
"There was a lot of activity towards the end of last year with organisations looking for collaborative solutions," he says.
"Where there are a number of disparate PACS solutions on long term contracts, some trusts have been looking to add a layer above the existing solutions with the aim of allowing cross-site reporting, and the ability to look at prior images.
"A more streamlined solution also has the potential to allow hospitals to redistribute workload and workforce to improve reporting capacity – reducing turnaround time, and also the need for outsourcing. This is laudable, although the challenge remains that there aren't enough people available to do the reporting, so teleradiology will still be required."
Maximising the workforce
Hollings says it's "slightly naïve" to make the assumption that there is a lot of spare reporting capacity out there, adding "the idea that in Trust A the radiologists are twiddling their thumbs while in Trust B they are flat out is a bit romantic". But he does say that operating across a larger area has transformed the lives of the workforce in the South West – and made posts more attractive.
Paul Jackson, head of marketing at Agfa HealthCare, is optimistic that technology is helping to attract and retain radiologists and that it will continue to do so in the future. But he stresses it will take creativity and imagination.
"It's a really exciting time for imaging technology, but it does need some different thinking – fortunately I think we're beginning to see that," he says.
Jackson points out that the current shortage of radiologists is only likely to worsen, with as many as 29% due to retire in the next five years in some regions. "This is a national issue, and vacancy rates are likely to be between nine and 50%, depending on where you are. Technology can help to resolve these issue and help make the most of your resources."
He cites the Yorkshire Imaging Collaborative, which brings together eight trusts across the region, as a case in point. "By linking everyone up you can maximise the workforce. But you also make a region an attractive place to work if it's an area that's really working smart in terms of technology and workforce. It might be IT-driven, but the impact is on the bigger picture."
He believes that deploying PACS sensibly could help achieve the broader aims of the NHS Long Term Plan, particularly around achieving faster diagnosis in disease pathways, including for cancer.
He points to a recent deployment of Agfa's Enterprise Imaging platform at the Princess Alexandra Hospital in Harlow, Essex. After going live in April 2018, he says by mid-September the trust had a plain film backlog of zero, with turnaround time (to get plain film results back to GPs) of 24-48 hours. "This aligns well with the aims of the Long Term Plan," he says. "And it's great for patients in the region."
No silver bullet
No one initiative will work in isolation, however. Jackson cautions against seeing rapid diagnostic centres, for example, as the answer. "We don't want to move the bottleneck further down the line. It's no use having your MRI done quickly, but then having to wait weeks for the report. The bigger picture is still important."
McCaffrey points out that sharing workload between neighbouring hospitals can have other advantages. These include enabling a higher level of specialist reporting if workload is distributed across a bigger area.
"It means the neuro guys can do the neuro reporting and the MSK [musculoskeletal] guys can do the MSK reporting and so on. It's a better utilisation of resources, but also should mean a better service for patients," says McCaffrey.
But challenges remain – and not all of them are about the software. He welcomes the Long Term Plan's ambition to roll out diagnostic imaging networks, but adds: "Show me the money – we need investment."
He points out that the UK lags behind much of Western Europe in terms of numbers of scanners per population, and also in the age of MRI and CT scanners.
Successful collaboration is possible, he says, citing Scotland, where clinicians can view images regardless of where they were taken across the country. "There are still hospitals in England where you can't do that, let alone cross-hospital," he says.
The standards challenge
There are challenges, however. "If you have disparate systems and another layer, potentially from another vendor, there can be interoperability issues," he says.
"This is getting better with the introduction of standards, but some legacy systems still don't work with standards. There's also the question of who is responsible or accountable if something goes wrong – if a report gets corrupted, or split, or an addendum is missed off."
Most RIS and PACS setups are classed as medical devices, and must meet robust standards. "But if you tack on a small solution that's not a medical device, how do you make sure it meets the same robust standards?" he asks. "I'm not sure that's been thought through yet."
Some trusts are taking the longer term decision to go to procurement to ensure they have an end-to-end system with clear accountability. McCaffrey points to University Hospitals Birmingham NHS Foundation Trust – formed recently from a merger by acquisition of Heart of England NHS Foundation Trust to create one of the largest teaching hospitals in England.
In January, it was announced that Carestream would supply the trust with a vendor neutral archive (VNA) and a PACS in a move that aims to unify the imaging environment across the trust's sites, specialties and technologies.
The Long Term Plan itself says that diagnostic imaging networks are an example of "a profound shift" in using digital technology to support the NHS to deliver high quality specialist care more efficiently. Whether this can be achieved in the next four years remains to be seen.