Special Report: Diagnostic Digital Pathology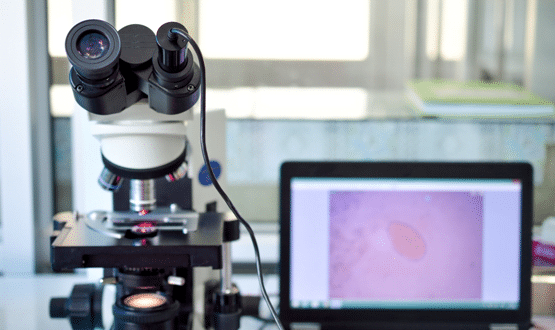 Both NHS staff and vendors say the interest in diagnostic digital pathology is growing. So could this previously larger analogue specialty be about to fully take the digital plunge? Jennifer Trueland investigates.
Even the greatest advocate for the digitisation of pathology would probably admit that it's been slow to take off, at least in the UK health market. While its near neighbour radiology has seen a tech transformation – so much so that many providers are on their second or third PACS procurement – the majority of pathology services remain distinctly analogue.
All this could be about to change. Pathologists are increasingly seeing the benefits of going digital for diagnoses: scanning slides and viewing them by a computer rather than a microscope. And a move to greater regionalisation of pathology services – plus a greater national focus on early and speedy diagnosis – is helping to make the case for transformation at provider level.
The level of activity is such that it has even surprised some in the field, such as Darren Treanor, the digital pathology lead for the Royal College of Pathologists. He says he has noticed a significant increase in interest from colleagues and organisations and a strong move towards adoption.
"As a college we think it's an important area, but for a long time it's been seen as something with a lot of potential, but as something that people talk about rather than doing it," he reports.
"This is changing – the growth in the level of interest in the last three years has actually taken me by surprise. Sweden went through a significant increase a few years ago, and while the UK has taken longer to do so, there are a lot of services that are looking at digital pathology, or piloting it."
Treanor, a consultant pathologist at Leeds Teaching Hospitals NHS Trust and honorary clinical associate professor at the University of Leeds, was an early adopter of digital pathology and has been working with it since the early 2000s.
He was perhaps a likely candidate to recognise its potential, having been among the presumably very few people to take a degree in computer science while doing junior doctor training.
A cultural shift
His colleagues are now catching up, however. "I think there has been a subtle shift in pathologists – they used to say that digital pathology was something they'd like to learn more about, but now they are saying that they must have it. There's been a cultural shift in the profession."
One driver for pathologists is the desire to keep providing a safe and high quality service amid workforce and resource challenges. "There's a shortage of pathologists and digital is seen as a way of making the best of what we have," Treanor says. It's also a means of making pathology posts more attractive to potential candidates, who might be tempted by the flexibility of working from home rather than always having to be in the lab with the physical glass slides.
Improvement in the technology is also helping to win pathologists over. "When you're accustomed to looking at a slide down a microscope, and then instead you are looking at a screen, you have to be able to convince yourself that you're doing it safely and getting the right results," says Treanor. "I think pathologists are getting much happier with using the technology, which is continuing to improve and evolve all the time."
This is, of course, music to the ears of vendors, who have noticed the same upsurge in interest of late. "The market is opening pretty quickly," says Chris Scarisbrick, sales director with Sectra. He believes digital pathology's time has come in the NHS thanks to a national focus on improving diagnostics and significant advances in the technology. "There's a perfect storm around digital pathology at the moment. It's a very exciting time," he says.
More work to be done
But Atif Ishaq, solutions and technical director with Dedalus Healthcare, believes there is still more to be done to get the message out about the benefits of digital in all aspects of pathology. He says there are lessons to be learned from Europe, where countries such as Italy, Sweden and France are ahead of the UK.
Ishaq points out that some of the processes in the pathology lab have already been automated, such as the histopathology workflow. But he acknowledges that while the technology is available, uptake could be better. "Adoption has been slow. We're talking about organisational and human factors and cultural issues."
Interoperability is another challenge, says Ishaq, not only between different pieces of pathology software but also at the interface between hardware and software. "It makes it difficult to have a fully optimised digital pathway," he adds.
He suggests one of the problems has been that digitisation in pathology has, to an extent, been driven more by what manufacturers think that clinicians want, rather than what the users themselves feel they want. "I think that's starting to change, and [manufacturers] are looking at user needs," Ishaq says.
The power of networks
Jane Rendall, managing director of Sectra, says the move to deliver pathology networks over wider geographical areas has also boosted the case for diagnostic digital pathology.
"Digital allows collaboration to improve services and speed up diagnostic turnaround times," she argues.
Sometimes this is even being done on a country-wide basis, with projects underway to implement diagnostic digital pathology across Scotland, for example.
There are also distinct advantages for clinicians, including sharing expertise, says Treanor. "In medicine it's common to ask for second opinions and a good pathologist will know when to do that. Currently most labs would have to send the slide to someone else to look at, and would maybe have to wait two weeks to get a response.
"With a digital image you can share it with multiple people at once, regionally, nationally, or even internationally, and you might even get an immediate response. It means that you can improve the quality of your region's service."
He believes that the professional climate around diagnostic digital pathology is changing, aided by the college's activity, including publishing guidelines for using it. This, Treanor says, has helped to give a sense of assurance digital is becoming part of the pathology mainstream. "The guidelines show the pathologists thinking about using it that they're not going off piste," he says with a laugh.
Treanor says that the development of regional cancer networks will be an important means of spreading both familiarity with and use of digital pathology technology. "Virtually every cancer alliance has got plans or funding to look at digital pathology. That means it will be available not just in teaching hospitals, but also in district general hospitals."
He believes that ideas about the potential benefits and uses of digital technology continue to develop. "In the early days, people thought the advantage would be in quantitisation – being able to measure how big, or dense a tumour is, for example," he says. "But now it is also being seen as a way of communicating or sharing images."
The potential of using machine learning or AI is also exciting, he believes, although he cautions against expecting a revolution any time soon. "I think somewhere that machine learning is proving very good is in pattern recognition," he says. "There's a lot of potential, but the reality is that AI will be a tool to help us [pathologists] by doing the boring repetitive tasks that machines are very good at, but you will still need a human to look at the image and formulate a clinical report."
Although his enthusiasm for digital is clear, Treanor hesitates momentarily when asked if he is excited about its growing role in pathology. "It's exciting to see the potential," he says carefully. "It's exciting to see it [diagnostic digital pathology] taking off. It's exciting to see a sea change in people who had been saying 'no no' for so long, and who now see the benefits. But we are still in the early days. There are some in the NHS who have never even seen the technology, let alone used it. But there's a real growing enthusiasm and a will to make it happen. There's a lot of cause for optimism, but there's still a long way to go."