Special Report: Digital Imaging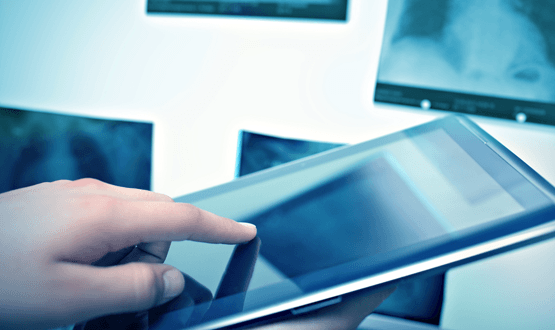 Adopting an enterprise image management approach can, proponents argue, lead to widespread benefits for NHS organisations. But is this enough to encourage trusts to embrace such a strategy? Maja Dragovic finds out.
In 2017, Stephen Townrow went to the board of The Princess Alexandra Hospital NHS Trust with a request. He wanted to consolidate all the organisation's different types of imaging into one single solution.
"Before we had a different cardiology system, they weren't storing any images from the theatre, it was all over the place," explains Townrow, the trust's imaging systems manager.
"There were situations where they wanted to look at imaging in A&E, but cardiology was shut so they couldn't look at the imaging. Hence, they couldn't make a clinical decision based on that – which affects patient care."
He adds: "When I asked: 'Where is your archive?', they pointed to a shelf with CDs."
That's why, he says, the organisation wanted to go down the road of an enterprise imaging strategy. Now all imaging is being integrated into one picture archiving and communication system (PACS) to, Townrow says, widespread benefit – including much greater efficiencies.
"A consultant who does reporting plain film imaging can [now] get through 800 plain films in one session, working from 8am until 2pm," he says.
"It's an incredible achievement. The system allows you to gain that efficiency and gain that speed. That is why we've got zero backlog. We have got to be one of the very few trusts in the entire UK that has zero backlog."
It's an illustration of what many say are the benefits to NHS trusts of implementing an enterprise imaging strategy. While the term – like so many in healthcare – can means somewhat different things to different people, this definition from a US research paper helpfully sums it up: "A set of strategies, initiatives, and workflows implemented across a healthcare enterprise to consistently and optimally capture, index, manage, store, distribute, view, exchange, and analyse all clinical imaging and multimedia content to enhance the electronic health record."
It's the sort of approach which is being adopted by increasing numbers of NHS organisations according to Darren Whittle, healthcare IT sales specialist at Carestream Health.
"They are producing more exams and more images but there's not that much more people to report the images and view the images so they are looking for more productive solutions. So they are looking for more regional-based systems and spreading the enterprise imaging platform regionally," says Whittle.
It is a view echoed by David Howard, international enterprise imaging sales executive at Change Healthcare. "What we are seeing in the last few years [in the UK] is this transition from pure siloed departmental purchases for radiology, cardiology etc to a shift towards an enterprise imaging strategy like in Greater Manchester who are seeking to purchase a true enterprise system whereby multiple organisations can manage their imaging in the central platform."
Link to EPR
According to Karen Middlehurst, national sales manager at Agfa HealthCare, it is a shift which is easier to make if an organisation already has an electronic patient record (EPR) in place.
"It seems to be higher up on the agenda [if there's an EPR] because there are less obstacles internally to get over," she contends.
She says an EPR-embedded viewer is a key component of Agfa Healthcare's enterprise imaging solution. "Clinicians can click on the image viewing tool and they will see the appropriate images related to the relevant patient. So that's very easy to do."
The difficult part is the workflow in the background. She explains images have to be scheduled "in a specific way, making sure that they have appropriate numbering so that they are viewable because you need to be able to identify the images with the name, appropriate date, appropriate meta data associated with that".
Although challenging, this sort of administration side of things is something which solutions can increasingly do automatically according to Change Healthcare's David Howard.
"We can take images from multiple sources, standardise those on the fly without any human intervention and then clinically workflow those to the appropriate person."
And Mark Ayears, the company's UK enterprise imaging business manager, agrees that real benefits can be seen when a connection is made with the EPR. "Where there is a capability to integrate your enterprise imaging solution with the EPR, then there is a very positive blurring of the boundaries and it becomes more of a unified patient record system."
Other challenges
For a successful EPR and enterprise imaging integration to enable sharing and agglomeration of data, there needs to be lingua franca across organisations, says Ayears. But he feels optimistic that the language of interoperability is pretty well spoken when it comes to imaging.
"We have some pretty robust standards around DICOM and HL7 to enable us to share and move imaging around. There are some newer evolving standards like FHIR which will enable us to use a common language between imaging and EPRs and other clinical systems."
For Caresteam's Whittle, the protocols that are supported by different vendors is a key issue in moving towards enterprise imaging across larger areas. But he adds that "the majority of systems in the market are very interoperable these days".
There are other challenges, though – not least the old classic of information governance. "If it's just an x-ray or a CT scan, you wouldn't necessarily know who that is if you saw that image on the screen. With a medical photograph, and some of those can be of an intimate nature, some of them can be complex cases, then you absolutely need to limit who will have access to those images," argues Middlehurst.
Getting on top of the pile
For Paul Jackson, head of marketing at Agfa HealthCare, there is one key thing that will need to happen if enterprise imaging is to truly become embedded within NHS organisations: it needs to be seen as part of the wider trust IT strategy.
"We've seen most advances when the senior leadership team – CCIOs, consultants, radiologists etc – are part of the imaging strategy which completely aligns to the IT strategy because then it gets the push and drive for all the other departments.
"Is it in the right place in the overall strategy or is it just an extended project out of another department? If latter is the case, then it remains at the bottom of a pile and doesn't have the priority that it should have," says Jackson.
Aligning strategy
In Ireland, it is clear that imaging has been placed front and centre of the strategic approach. Some years ago a decision was made to invest in a national imaging solution to support all the public hospitals in the country.
Says Change Healthcare's David Howard: "The key is that they provide a single enterprise system that is available to any clinician across the entire country".
But it was a gradual process, focusing first on all radiology departments and in recent years expanding to include other ologies (opthalmology, cardiology etc).
"So, they took a step beyond the single storage solution for imaging to actually make the imaging that's available clinically relevant. It can be workflowed to the appropriate person with critical alert – anyone in the country can be notified through critical alert, they can be brought directly to view the image, make the report, and acknowledge that they closed the loop."
That gradual approach is one also taken by Stephen Townrow and colleagues over at The Princess Alexandra. The trust is currently half way through integrating all of its departments' imaging into the enterprise solution.
"We integrated cardiology, medical photography, theatre imaging which we [recently] started – we are just connecting up the machines, scope, tools, videos etc," Townrow explains.
And the indications are that it's an approach which is paying off. Indeed, Townrow says the Care Quality Commission (CQC) has recognised the organisation as having the second fastest turnaround of inpatient imaging in the country.