Special Report: Digital Imaging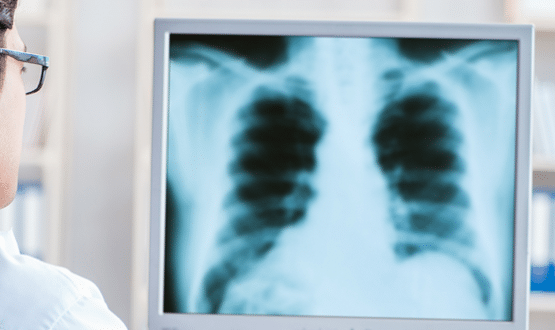 There is an increasing awareness that digital imaging could play a significant role in the diagnosis of Covid-19. Imaging can help evaluate how severely the patient's lungs are affected, and how the patient's disease is evolving, which helps in making adequate treatment decisions. Maja Dragovic looks at the role of digital imaging during a global pandemic and its impact on the future of diagnostics.
Medical imaging has played a big role in Covid-19 management through chest X-rays, CT scans and even ultrasound.
Stephen Townrow, the imaging systems manager at the Princess Alexandra Hospital NHS Trust, says that although digital imaging is not usually used as a diagnostic tool. Yet when the Covid pandemic hit, it started to be used as such because of the turnaround speed of results.
"We had patients coming in who weren't in for that particular issue, but it just happened we scanned them and they had Covid on the lungs," he explains.
"Imaging is readily available, it ensures there's no delays in patient care.
However digital imaging has not only played a role in just discovering Covid patients but also in the ongoing monitoring of cases.
"We were able to do things like points of care ultrasound which has proven to be quite an important tool in the follow up of Covid cases", Sectra's sales director, Chris Scarisbrick, says.
"We were able to use the EPR to register those exams and just enter it into the PACS rather having to go through the departmental RIS system. It allowed us to be much more efficient with the way that work was identified, acquired and reported."
Supporting remote working
One crucial challenge for hospitals was ensuring enough radiologists are available to work during the pandemic with workforce shortages causing concern.
For Dr Sameer Shamshuddin, consultant radiologist and PACS lead at University Hospitals of Morecambe Bay NHS Foundation Trust, it was difficult to adhere to a regular rota as some radiologists developed Covid-like symptoms and had to isolate.
"Job plans and a regular rota was parked, so a Microsoft Teams call was set up at 9am every day to assess available workforce and deploy staff as required to cover emergency and essential clinical activity," he says.
With staff self-isolating or shielding, it was important for hospitals to quickly enable radiologists to work from home, so as not to lose any capacity.
Townrow adds that Princess Alexandra Hospital NHS Trust adopted a similar approach.
"We had about 15 high-end PCs that we organised very promptly for our radiologists and we also provided additional monitors so they could view imaging at home," he says.
"It paid off very soon after, we had two radiologists who in the second week had to isolate but they were well enough to work from home so they could still support the team remotely."
To enable remote work, the Trust rolled out Microsoft Teams and managed to integrate it inside its web PACS system, so that clinicians could share imaging with another set of digital care doctors and clinicians for advice with a single press of a button.
Whereas at Morecombe bay, they used Microsoft Hololens, with clinicians putting on glasses that gives them the ability to see what someone else is seeing. This enables respiratory clinicians working remotely to actually see patients as well as allowing them to open and view electronic records.
"Hololens has provided a sophisticated solution to providing remote expert respiratory opinion at the bedside," says Dr Timothy Gatheral, consultant respiratory physician and department clinical lead at Morecombe Bay Hospitals.
"This enables us to reduce staff exposure and use of precious PPE in the COVID ward areas and allows us to offer immediate advice and interaction for patients across the trust's wide geographical footprint."
The crucial role the remote digital imaging plays in the pandemic is not only confined to Covid patients, however.
At Morecombe Bay, staff have been looking at different ways to reduce the necessity for any patients to come into the hospital.
Dermatology, for example, is one of those things where they can do good clear diagnosis from imaging, says Emma Jackson, lead for digital imaging at University Hospitals of Morecambe Bay NHS Foundation Trust
"We have been working alongside the local GPs to set up a tele-dermatology service so the GPs would send images to the dermatology consultants in the trust," she says.
"It's half running at the moment but it will be fully implemented in the next couple of weeks."
Adequate systems and modern equipment
Being able to work remotely and have access to quality images that will result in reliable diagnosis requires adequate systems. Scarisbrick argues that access to web-based systems helps to reduce technical challenges in making digital images universally available.
"Undoubtedly access to web-based systems has facilitated rapid reporting in areas where capacity may have been compromised", he says.
"One area in particular where we saw different systems having different advantages is in the PACS-based reporting.
"Where Trusts have all of their images and reporting in a single web-based system, it was easier for those sites to allow their workforce to work remotely because they didn't have the complications of trying to integrate several clients in a remote environment combined with the challenges around VDA, virtual desktops, citrix environment and things like that."
Living in the modern age
Ensuring timely and reliable imaging services also requires modern equipment – a weak point for a many NHS hospitals.
When the NHS was collecting data to help it build a national strategy for imaging networks, it found, amongst others, that a number of hospitals had aging equipment. This, coupled with raising demand, is putting extreme pressure on delivering timely imaging services and providing high-quality patient care.
Indeed, Townrow says that the pandemic has further exposed the extent and the impact of the underinvestment in imaging equipment.
"Our CT scanner that was due to be replaced last month and now is going to be replaced next month, was going down far too often," he explains.
"We bought in a mobile scanner to help because the thing was just so unreliable. It shows the underinvestment in certain kit and the work that needs to be going to keeping and maintaining that kit. It is key to keeping the system running."
The approach going forward, however, is not just to replace the old equipment in every single hospital. As outlined in a national strategy for imaging networks, the way forward is to implement collaborative imaging networks on national basis across England. Implementation will be done in two phases, with 24 networks to be created by 2022 in phase one, and 18 networks by 2023 in phase two.
"The importance of those networks probably will give benefits for future pandemics and how we react to these sorts of crisis going forward," says Jane Rendall, Sectra's managing director.
AI assistants?
In the long-term, however, it is believed AI will play a more significant role, especially in addressing workforce shortages.
Townrow says that Covid has helped to push their AI projects forward and they plan to start using it in breast imaging first.
"At the moment, the breast reporting is done by two separate radiologists," he says.
"The way we're looking at doing it now is the machine to do the first read and the human to do the second read so overnight you half the workload of the breast unit."
"We are also looking at chest AI, obviously, from everything that's been going on but also just generally where AI can look at images and pick things out but not to replace but to assist the radiologist to make sure reporting is clearer, safer and timely."