Special Report: Cloud First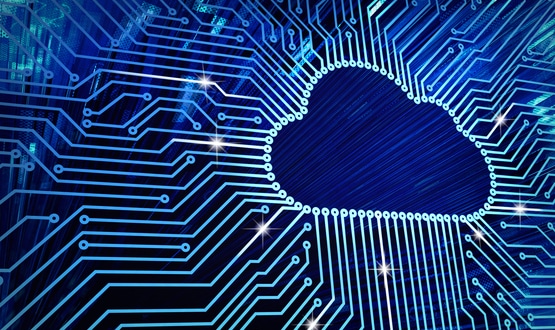 As we move towards a more joined up NHS, does cloud technology hold the key to better access to patient records? Jennifer Trueland investigates whether the pandemic has led to a shift in attitudes towards the cloud, which has previously faced resistance in the health service.
To the lay person, it makes absolute sense that if they were to fall ill while away from home then medical staff should be able to access their patient records from whichever facility they were attending. After all, this is 2021, where, for example, you can go into any branch of your bank across the UK and the teller can, with the appropriate checks, call up your account details and help you with your query.
But although there are cities and even regions where patient information can be easily shared, this is far from universal, and the dream of nationally available patient records remains elusive.
This is what former health secretary Matt Hancock was trying to tackle when he addressed the Digital Health Rewired audience in March. Speaking at the Digital Transformation Summit, he set out his post-Covid vision for digital in the NHS, including a cloud-based revolution for patient information.
The way that live patient data is currently held – generally by the companies that provide the electronic patient records – can act as a barrier to people accessing it, he said. Rather, he wanted to see a "consistent data platform" which would see patient data separated from the application layer. This would mean that providers could offer the application software and the data would be stored separately – and securely – in the cloud.
"I know this is a big change, but this has been a year of big changes," Hancock told the audience at Rewired.
For this vision to be possible, the NHS would have to overcome the resistance to cloud that persists in some organisations, and among some individuals. But there is some optimism among the vendor community that this might already be happening, perhaps accelerated by Covid.
"Cloud is becoming much more of a topic and we're seeing more and more market opportunities," says Paul Sanders, managing director of clinical systems at Civica. "I'd say the health sector is still three to five years behind other areas – and they have valid reasons for that – but without a doubt we've really seen that shift in the last 18 months to two years from on-premise to cloud first."
The greater focus on shared care and integrated care systems will be a key enabler for that, he believes, because it means there is a need for wider access to data that too often sits in siloes on-premise.
"Really, by default, that drive to deliver care more collaboratively, community-based, regionally, has to create a need for an open platform of data," he adds.
For him, the shift to cloud to enable data sharing as per Hancock's vision is a "no-brainer" but he understands why there has historically been some reluctance in NHS organisations.
"Naturally there's a nervousness around patient data – anybody's health is obviously very private. And there's a nervousness from the public, and you've got GDPR as well," he says.
"In fairness, it's highly complex – the concept sounds simple, but the idea of executing that with multiple stakeholders and the plethora of datasets that are out there is more difficult."
Covid created that focused determination to break down the normal barriers to change, says Sanders, because there was an "absolute need" to do things differently.
This led to some fantastic initiatives, he says, pointing to Civica's achievement of creating a Covid app for Northern Ireland in just 10 days, and to the wider shift to videoconferencing both for telehealth and for meetings more generally.
"It showed that things could be done quickly, but in fairness these were point solutions for discrete needs. The reality moving forward from Covid is to move from those point solutions to a whole economy, and that's a strategic shift: suppliers need to be on board, the public need to be on board, and health organisations – battling through the challenges they're facing now – have to be on board. That's a strategic shift, and that will take time," he adds.
According to Matthew Chase, CTO at Fujitsu, different parts of the health service have different attitudes to cloud. The centre – by which he means organisations like NHS England and NHS Digital – are more cloud mature, as are many arms-length bodies, but it's a different story on the frontline. That's because the stakes are higher when it's people's lives that are at risk, which means that risk is handled differently, he says.
"The centre doesn't actually provide care services, and when you provide care services, first and foremost you have a duty of care to your patients. That principle is applied to providers of care, including primary care, secondary care, mental health, tertiary services and so on," Chase says.
"It's also applied to the vendors of these systems. When it comes to delivering care in the NHS, risk is managed differently than it is in the centre because patient outcomes are primary."
Covid didn't change that, he adds. "What Covid did was remove some of the information assurance challenges – that are necessary, but can slow things down."
When it comes to cloud, however, some trusts are well ahead, according to Chase who cites South London and the Maudsley NHS Foundation Trust as a good example.
"They are predominantly on cloud although they still have a few things on-premise on their own servers. There are pockets of similar activity going on in other trusts but no-one is quite at that level," he explains.
As cloud use becomes more widespread, there are economies of scale that benefit suppliers as well as customers, says Chase, who until recently was CTO at Guy's and St Thomas' NHS Foundation Trust. Using cloud to deploy software in a repeatable way means that there are cost savings that can be passed on to customers, and that there is less risk and less reinventing of the wheel.
"It's win-win. The NHS or the healthcare organisation gets the benefit."
Cloud brings numerous benefits to healthcare organisation, he adds – not least that it allows them to focus on the day job. "[Health services] need to focus on what they're being asked to do, and that's not to run great data centres; it's to run efficient healthcare services and make people better."
Matt Hancock's wish for a separate patient data layer in the cloud makes absolute sense, especially in the context of integrated care systems, says Chase. "ICSs need a different level of data integration – they need to have oversight of what's going on."
This means that if someone is treated in one part of the system their information – including any diagnostics – should be available wherever they are being treated, whether that's very local to them or in a regional specialist centre.
"If you've had an MRI or a CT at the start of your care pathway it shouldn't have to be repeated if you're referred somewhere else. That's our expectation as citizens and it's what we expect from everything else in our daily lives," Chase says.
This integration happened at a national level with the Covid vaccination programme, and there is potential to create similar national services, for example with pharmacy, where it should be possible to get a prescription filled from anywhere in the country (the way it used to work when it was a paper-based system). Cloud would be the natural platform to run such a national service from, says Chase.
But when it comes to a true move to national services based in the cloud, as well as the technical challenge of ensuring open data and common standards, there are also other factors to be taken into consideration, not least the sheer pressure on health services.
"It's harder to engage with the NHS in the winter period at the best of times," says Sanders, and it's also difficult to do the work to engage the "hearts and minds" of those who are crucial to making change.
"The reality of it is that the need to change increases, but the ability to change decreases. And that's really not a good combination."
Covid may have increased the pressures on health services, but they were already there.
"There's a need for digital and technology to transform the way that healthcare is delivered, give greater access to information, improve decision-making and outcomes, and the need is increasing," Sanders adds.
"The best enabling platform for that is cloud technology. It's more secure, it's more scalable. It allows healthcare organisations to focus on their core area of improving patient outcomes and it allows IT specialists like myself to focus on maximising digital platforms."
The data layer envisaged by the former health secretary should create greater innovation and collaboration, he explains, because data will be available in a secure and governed way.
"That will allow more radical and exciting things to happen by utilising machine learning, artificial intelligence, robotic process automation, and allowing technology innovation to do some of the most amazing things on probably one of the most exciting databases that we have, globally," Sanders says.
"It's been said that data is the new oil, and without a doubt, clinical data has the potential to transform lives and the way that care is delivered, which is very exciting."