Special Report: Electronic Document Management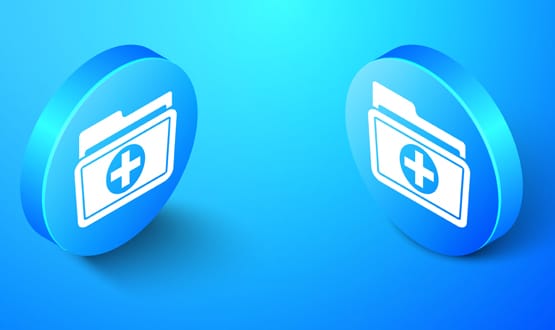 Covid-19 has thrown a spotlight on digital maturity. As Vivienne Raper reports, many trusts last year have changed priorities or continued to widen the scope of existing electronic document management plans.
In March last year, Jamie Hall, head of sales at IMMJ Systems found a missed phone call and a text message from London North-West University Healthcare NHS Trust. He remembers it reading: "Jamie, can you call me urgently?"
The call was from Sonia Patel, former CIO at the trust, who asked him how quickly he could deploy an Electronic Document Management System (EDMS) to support virtual outpatients.
"It was right at the height of stuff getting scary. Lockdown was looming and we all thought we were going to die," he reports. "She put me on the spot about how fast I could go live, and I said 72 hours – it was a gut instinct."
It took four days to deploy the software to convert outpatient case notes into a digital format, with Hall and colleagues working around the clock.
"That whole week, the pressure kept me honest. If I hadn't had that piece of work, I don't know how I'd have coped with Covid mentally, taking three small children to school," he adds.
A spotlight on digital maturity
For Hall, Covid-19 has put a spotlight on the digitisation of NHS paper records – and upon those hospitals who are less digitally mature on EDMS.
"Medical records are just one of those things people don't think about," Hall argues.
"They're out of sight, out of mind – it highlighted the fact the system was running when the service was gone."
As James Hodgin, head of solutions, UK, for Allscripts puts it: "It's the age-old adage. You have bits of paper flying around and, during COVID-19, they can only be in front of one person at a time."
Overcoming the Covid challenge
The EDMS at London North-West had to go live remotely, with the implementation teams offsite, due to the March 2020 lockdown, explains Hall. Paper records were quarantined for three days, and the processes adjusted for offsite working.
"We had to tackle – if you have a consultant working from home, they're not going to have the physical bits of record to write notes on and return to the scanning system," he says.
A mixed picture for EDMS
While the Digital Health Intelligence special report on EDMS in 2020 highlighted a taste for digital transformation, this hasn't translated into the rapid advancement of EDM plans for every trust.
Norfolk and Norwich University Hospitals NHS Foundation Trust, for example, only went live with its EDMS at the start of 2021, according to Ed Prosser-Snelling, the trust's chief clinical information officer and a consultant obstetrician and gynaecologist.
"There was a huge appetite for digitisation when it was necessary, i.e. during Covid," he explains. "But then, us and other frontline clinician colleagues around the region thought – if we don't have to do it now, we can wait."
He attributes this tendency to 'change fatigue' as a result of the pandemic driving numerous simultaneous digital implementations. In March 2020, for example, he says the trust deployed Attend Anywhere and Microsoft Teams within a week.
"Whereas before, the hospital was focused on single pieces of digital transformation, building towards a bigger picture, that rug was pulled out from under our feet," Prosser-Snelling adds.
Making it slow and steady
Prosser-Snelling reports that EDMS is now live throughout the hospital, but – so far – the trust is focusing on scanning patient notes in gynaecology, gastroenterology and ENT.
"We needed to start with something small, so we chose high-volume specialities that didn't have much crossover with the main hospital," he says.
To overcome change fatigue, he describes how the trust has deployed the EDMS slowly, with trained change agents and 120 'superusers' providing additional support. They've also adopted a hazard log and clinical safety plan.
"Using the NHS digital clinical safety process has been really helpful because we can reassure clinicians that everything we do is planned and considered," Prosser-Snelling adds.
Taking a post-Covid breather
Along with the rapid EDMS implementations, Hall at IMMJ is also seeing a slowdown in some projects with trusts pausing to assess the technologies they've implemented.
"I think the NHS is coming out of the most pressures it's had to face and, like anyone whose gone through some stress, you want to take a break," he adds.
Moving forwards into the cloud
For other trusts, the pandemic has made little impact on their EDMS plans. According to Andy Fahey, digital content programme manager for Guy's and St Thomas' NHS Foundation Trust, "Covid didn't drive forward any timelines – it didn't have an impact."
The main driver of the trust's EDMS plans is a refresh of their electronic patient record (EPR) with a move to a cloud-first solution. "There's a national trend to move from on-premises to the cloud," he explains. "There are benefits around the ease of scalability, reliability and resilience."
According to Fahey, the trust has used Civica's WinDIP EDMS for five to seven years to store a wide range of documents, including clinic letters and discharge. "It predates me and has been end-of-life for a year or so now."
In February 2021, they signed a ten-year contract with Civica to procure the Cito enterprise document and content management system as part of Apollo – a widespread deployment of the Epic EPR. "[Cito] is integrated into Epic from an end user's perspective," he explains. "But the documents are stored in the EDM."
Identifying new trends
Hodgin believes that upgrading legacy systems – often in response to COVID – has been a noticeable driver of EDMS procurements in the last 12 months. "People are seeing the challenges and want to move forwards with a future-proof solution."
Another trend he's noticed is towards vendor neutral archives (VNA), where different software providers can store data in a single place.
"VNA is closely linked to discussions about EDMS and a single repository for data capture", Hodgin says.
"It's an accelerating concept because people don't want silos of data in different places."
Widening the applications
Steve Burton, sales director at Civica, argues that EDMS has traditionally been deployed in the acute sector – where they have a high volume of paper records – but there's been an uptick of interest at mental health and community health trusts.
"It's to do with the long-term use of data. Organisations are realising the wider benefits of going digital," he says.
Burton also reports that acute trusts are capitalising on the benefits existing EDMS systems by integrating voice capture, data capture in a structured format, and linking to other workflows.
"There's an understanding and interest in having a wider interaction with EDMS and how that drives benefits," he argues.
Moving beyond the pandemic
For Hall, the post-pandemic period will see a transition between implementing EDM software and understanding the implementation process.
"It's turning the tap back on and seeing patients moving back into services and treatment," he says.
Hall sees a potential for long-term change in working practices, volumes of records and patient activity. "People are used to sitting at home – they've got used to it."
Prosser-Snelling, meanwhile, expects EDMS to help reduce post-COVID waiting lists. "If we scan the notes and clinicians can access them, they can prioritise patients who may have to wait for a long time."
"Ordering from the five-football-field-sized warehouse that stores our notes – there's a huge delay from that!"
Making EDMS a success
So, what factors do, and will, make new EDMS projects a success?
"The main objective is ensuring the provision of all content to clinicians, etc. at the point of need, in an integrated record," says Fahey, who emphasises that his trust's EDMS implementation isn't a technical project – it's clinically led and supported.
Burton concurs. "First-and-foremost, you need to make sure you're able to support clinical change to the way of working." He also emphasises the need for wider support from the trust executive team.
A post-Covid wrinkle is the need to communicate that EDMS can't be embedded as quickly as other pandemic rollouts. Prosser-Snelling explains, "There's this expectation that, because we dropped MS Teams across the organisation within a week, we can do that with other bits of software."
Hall also mentions the importance of responsive, accessible technology. "In addition, you need a digitisation plan – understanding how you're going to digitise the records, which records to digitise and over what timescale."