The Patient Information Forum has published a report on the benefits of providing information to patients and carers.
News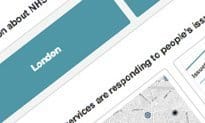 A prototype feedback service that will become part of the integrated customer service platform being developed by the NHS Commissioning Board was on show at the NHS Innovation Expo 2013.
News
The 'customer service platform' being created by the NHS Commissioning Board will encourage the health service to think differently about the way it interacts with patients and potential users, its director has said.
News