University Hospitals Coventry and Warwickshire NHS Trust is sending letters electronically to all GPs in its local area and deploying electronic blood tracking as part of its efforts to become paperless by 2016.
News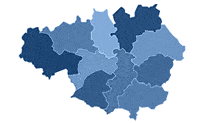 All ten acute trusts in Greater Manchester will have stopped using paper to send discharge summaries to GP practices by the end of the month, and willl be sending correspondence electronically through PCTI's EDT Hub.
News
St. Helens and Knowsley Teaching Hospitals NHS Trust is sending all of its discharge summaries to GPs electronically.
News
Royal Berkshire NHS Foundation Trust is sending discharge letters to GPs across eight clinical commissioning groups using PCTI's Electronic Document Transfer Hub.
News
A Surrey community provider has built an interface out of RiO to send digital discharge summaries to GPs.
News
Twelve of 14 Scottish health boards are using PCTI's Electronic Document Transfer Hub as part of a national project to send correspondence electronically.
News
The Greater Manchester health economy is deploying England's largest electronic document management hub, involving ten acute trusts and 450 GP practices.
News