Since being appointed as an NHS England vanguard in 2015, Dorset has undertaken an ambitious digital transformation programme to create a single shared data platform across our three trusts – the One Acute Network) – as well as other county-wide health and social care facilities.
A key part of Digitally Transformed Dorset (DTD) is a region-wide Shared Care Record, a project that I lead . This article outlines  some of the challenges, successes and benefits along the way to developing this environment.
Creating the One Acute Network
At the heart of the acute network is the creation of common hardware, utility, connectivity and software platforms to link up community, primary and acute networks in support of all the Sustainability and Transformation Plan (STP)  tiers.
To deliver interoperability and shared records the Orion Integrated Digital care Record (IDCR) has been chosen.  This will ultimately include interfaces with between 70 and 100 different clinical and social care applications.
One of the major challenges in building a common platform is standardisation. Even where our acute trusts have the same or similar scope of services there are inevitable variations.  Some hospitals are rural while others are urban, and those with specialities inevitably have different clinical systems and core bespoke technology.
This means it's always a balancing act between the need to align processes and technology on the one hand while respecting individual requirements on the other.  It took us many months and many meetings to negotiate a common way of working but the result is that all of Dorset's four acute and community care IT directors are in agreement that the only way ahead is formal collaboration.
Medicines management: a proving ground
So far one of our best developed examples of the integrated platform is medicines management. Three of our trusts are already using JAC's pharmacy system so the next logical step is the prescribing process and JAC's EPMA (electronic prescribing, and medicines administration system) has been in production at Dorset County for the past two years.  In August 2016 The Royal Bournemouth and Christchurch Hospitals and Poole Hospital chose JAC's new web version of EPMA, with Poole due to launch its pilot in October 2017.
Consolidating the individual hospital EPMA systems will begin once it has bedded in at the two trusts and will give us an opportunity to see how the One Acute Network works in reality.
In parallel, Dorset HealthCare will also be reviewing its preferred solution to e-prescribing.  The aim over time is to to have a single medication record that covers the full continuum of care and can acts as a proving ground to validate the importance of working with standardised platforms.
Same system, different location
For the trusts a standardised JAC-based medicines management environment will give clinicians a common set of tools and workflows wherever they are within the acute network.  With a single logon a nurse or doctor can access the system and be presented with the same information in the same format and with the same familiar look and feel.
Besides simplifying the training process, this consistency of presentation has care-critical implications. Consider medical alerts.  Say a patient's medication has been missed and an alert appears on the screen as a yellow triangle at the top of the screen. If that is how someone expects to see it, and it instead suddenly appears as a red triangle on the bottom of the screen (with a different system) the warning might be overlooked.  Not only does a standard methodology mean less errors and better outcomes, it also simplifies the lives of busy clinicians.
A common platform should also enable hospitals to better meet their seven days a week availability targets and achieve the same quality of best practice outcome – no matter which facility is delivering the care – faster and with long-term clinical and financial sustainability.  To do this requires working smarter with available resources whether on scheduled rota or in an emergency. If a visiting specialist can access the system they are used to and has access to patient histories and all the real-time medication data they need at the point of care, then there is no disruption to care.
Governance and real-time data capture
A standardised platform merged with a common care record also has major implications for governance and patient safety.  In the case of medicines administration, prescription regimes can be reconciled in real-time and the patient's care journey – which may involve multiple facilities – can be processed more quickly and with greater accuracy, with no more unreadable prescription forms, from the point of hospital admission to home or community care.
An integrated care record clearly streamlines the audit process, but these are at best periodic (at the Royal Bournemouth and Christchurch we conduct some 200 a year).  More importantly, since there can be tens of thousands of things happening at any given time,  real-time data visibility enables clinicians to monitor patients' status across Dorset's 1500 acute beds. Anytime from anywhere.
Consider the missed medication scenario, a not uncommon occurrence if ward nurses on their drug grounds are interrupted then forget where they left off sending a patient into theatre ill-prepared.  But the system has already logged the omission and so helps avoid a potential adverse impact, delivering a safety assurance like never before. In fact one wonders in the light of EPMA whether the CQC should review its questions.
Clinical database will support clinical research
Shared clinical data also has huge implications for medical research and should make us more attractive to pharmaceuticals. The availability of a large medicines database will enable us to quickly and easily identify best-fit clinical trial candidates against a wide range of parameters, of course with appropriate consent models.
So how does the Digitally Transformed Dorset initiative deliver on the Department of Health's projections going forward?  Hopefully this piece gives a few useful indicators in terms of care quality, operational efficiency and financial sustainability. Some benefits in terms of care quality, operational efficiency and financial sustainability are already being realised while others are as yet a gleam in our eye.  One thing our experience over the past two years has made clear is that data sharing across common platforms are the key and collaboration and consolidation is the way to achieve them.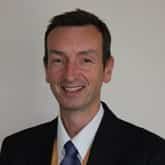 Peter Gill, Director of Informatics, The Royal Bournemouth and Christchurch Hospitals NHS Foundation Trust