Remote monitoring at Liverpool Heart and Chest Hospital to highlight deteriorations in patients waiting for cardiac surgery has been a resounding success.
Clinical Software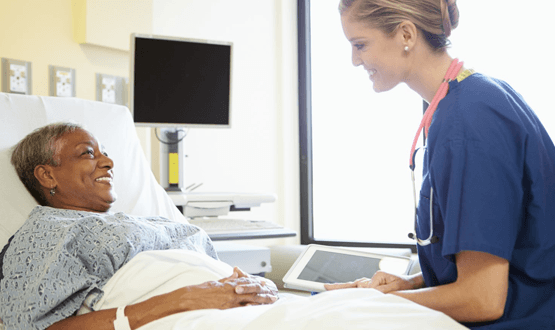 Early warning system helps Basildon and Thurrock University Hospitals NHS Foundation Trust reduce cardiac arrests and identify and respond to other potentially fatal conditions such as sepsis and AKI.
Clinical Software
Patientrack helps frontline hospital staff lower mortality, respond to deteriorating patients, and reduce length of stay through e-observations, alerting and assessments. See how Manchester nurses are transforming care with Patientrack.
Clinical Software
A study has revealed that since surgeons started publishing data on outcomes for people undergoing heart operations, mortality rates have dropped dramatically. The Society for Cardiothoracic Surgery studied 400,000 operations performed over the past five years, and found that death rates in coronary artery surgery fell by 21% and in aortic valve replacement operations by […]
News
The Quality and Outcomes Research Unit at University Hospitals Birmingham NHS Foundation Trust was the overall winner in last year's BT E-Health Insider awards. Daloni Carlisle finds out why.
Feature
French telecomm giants Orange and Alcatel-Lucent have signed a cooperation agreement to develop services for e-health and enhanced assisted living.
News
Microsoft has launched the latest version of its Amalga data aggregation platform, which includes connectivity to its HealthVault personal health records platform. The company has also announced that one of America's most prominent hospitals will be using both technologies to open up its records, tests and other health information to patients. New York Presbyterian Hospital […]
News
Orange has partnered with medical device company Sorin Group to develop remote monitoring for patients with implanted cardiac rhythm management devices.
News
The controversial website iwantgreatcare, which allows patients to rate their doctors, is expanding into other areas of NHS work, in a move that aligns with Prime Minister Gordon Brown's call for public service users to be able to rate them.
News
Online scanning to allow remote diagnosis for island-based patients and Scotland's biggest telehealth system are among a range of hi-tech projects to help more patients to be treated quicker and closer to home. The Scottish NHS is to invest €1.8m in e-health – including €640,000 funding from the country's major health IT contractor Atos Origin. […]
News