Digital Health Unplugged Archive
Digital Health Unplugged is published on Spotify, Apple Podcasts and many of your other favourite podcast platforms.
We aim to publish episodes on a monthly basis but this can change due to unforeseen circumstances.
Our next episode is due to be published in September and will feature a panel of our 35 under 35 Summer School bursary placeholders. Future topics include recent cyber incidents and a news team debrief.
Follow us to stay up-to-date with the latest news. You can also download the podcast from digitalhealth.podbean.com or through the Podbean app.
Got a podcast suggestion? Email podcast@digitalhealth.net.
After a two-month break the Unplugged Podcast returns as Jordan Sollof chats with the first group of 35 under 35 bursary scheme members.
News
Hannah Crouch is joined by Dr Hussain Gandhi, or as some of you may know him on Twitter as Dr Gandalf, the Digital and Tech GP.
News
The three chairs of the Networks Advisory Panels are the latest guests to join Jordan Sollof on an episode of Digital Health Unplugged. 
News
We have a new edition to the news team debrief podcast as Hannah Crouch and Jon Hoeksma are joined by Digital Health's junior reporter, Jordan Sollof.
News
Following a successful Digital Health Rewired, Jordan Sollof chats to Dr Rachael Grimaldi, co-founder and CEO of Pitchfest 2022 champions CardMedic.
News
Joining Jordan Sollof on the latest episode of Unplugged is Edward St John, co-founder and chief medical officer of Concentric Health.
News
The latest episode of Unplugged is now live and this time Jordan Sollof is joined by Saffron Cordery, deputy chief executive at NHS Providers.
News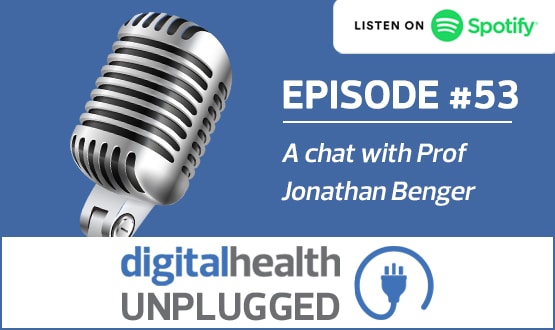 Digital Health Unplugged is back for the first time since October with a brand new host and a brand new episode, chatting to Professor Jonathan Benger.
News
Our Digital Health Unplugged podcast is set to return this February with brand new episodes for the first time since last October.
News
Loading ...