A £1.5m, robot-powered tele-pharmacy is being opened in Liverpool to improve access to medication for people living with long-term health conditions.
News
Care homes across Liverpool will have access to a service allowing staff to video call a hospital when a resident has a health concern.
Digital Patient
Whatever happened to the massive and well-funded Delivering Assisted Living Lifestyles at Scale programme, and did it deliver any results? Laura Stevens sets out to find out.
Digital Patient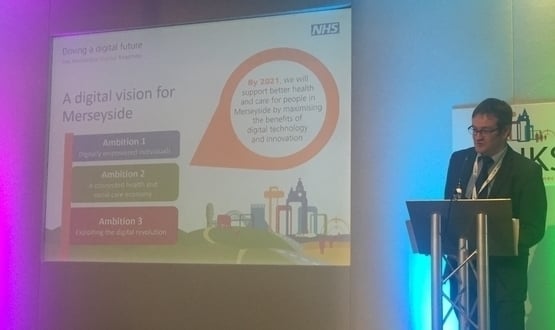 More than 12 million records have been shared across Merseyside, as an increasing number of health and social services sign-up to share information.
News
In Merseyside, health organisations are smashing faxes, finding cheap ways to go digital, and playing with tomorrow's technology. Ben Heather reports from the iLinks Innovations Conference.
Feature
Virtual reality will be tested as a care tool in Liverpool this year, both for treating patients and helping clinicians meet remotely.
Digital Patient
A study of a large scale, supported self-care programme in Liverpool has found clear reductions in emergency admissions and secondary care costs for some patients.
AI and Analytics
Alder Hey Children's NHS Foundation Trust has gone live with a new version of the Meditech electronic patient record.
Clinical Software
The 'red book' that records a child's early health progress is one of the best known personal health records; and it's on the verge of going digital. Kim Thomas reports.
Digital Patient
Three Liverpool trusts are jointly procuring a new, integrated electronic patient record system, worth up to £70m, to help them work collaboratively.
News