Applications have opened for the 7th DigitalHealth.London Accelerator programme, aimed at tackling NHS challenges with digital innovations.
News
The end of 2022 saw the London Care Record rolled out to 28 care homes in the region, who are now benefitting from the vital information they can access.
Clinical Software
1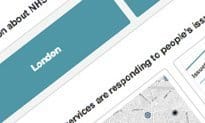 A multi-channel patient feedback service developed by NHS England is going live in 18 trusts in London and the North within a week.
News
GPs in London have been told to do nothing about the Summary Care Record until they get the go-ahead from the BMA's GP committee.
News
NHS Waltham Forest has become the first primary care trust in London to link up its RiO electronic patient record system with Choose and Book.
News
The BMA has criticised the roll-out of the Summary Care Record programme, claiming patients do not have enough information and that it is too hard for them to opt out.
News
NHS London is aiming to create Summary Care Records for 100% of the people living in the capital that want one by March 2011.
News
The Department of Health has announced that the Summary Care Record is to be rolled out across London from this week.
News
NHS Southwark has been named as the first primary care trust in London to roll-out the Summary Care Record and will go-live with it in November. The Princess Street Group Practice in the Elephant and Castle area has already started sending letters to local patients, telling them about the SCR and the options that they […]
News
The Department of Health's interim flu line service is expected to be operational by next week, as the government predicts 100,000 swine flu cases a day by the end of August. The interim arrangements for the flu line, which has had its name changed to the National Pandemic Flu Service, have been put in place […]
News