National Data Guardian Nicola Byrne has warned NHSE that it must be fully transparent about the aims and due diligence involved in the tender for the FDP
AI and Analytics
2
NHS improvement has published a league table of NHS trusts according to their openness and transparency.
AI and Analytics
The Conservative Party has promised to continue the NHS transparency agenda and to give people "full access" to their electronic health records in its manifesto.
News
Hospital consultants who refuse to publish patient death rates could face new penalties, the medical director of NHS England has told a weekend paper.
News
Health secretary Jeremy Hunt has urged the NHS to "put its head above the parapet" and make more creative use of technology in a speech to the NHS Confederation.
News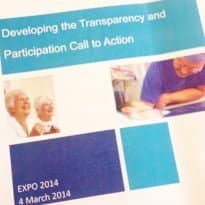 NHS England is working with McKinsey to develop an evidence base for the NHS to invest in technology.
News
The health service will become "totally dependent" on electronic health records over the next five years, health secretary Jeremy Hunt has said.
News
Forty indicators about GP practice standards and performance have been added to the NHS Choices Accountability Tool.
News
NHS England plans to publish outcomes data for non-surgical physicians and ten new clinical indicators next year.
News
An influential US safety expert, called in to advise the government on creating a 'zero harm' NHS in the wake of the Mid Staffordshire scandal, has called for "complete transparency of data."
News