A Scottish hospital has saved hundreds of thousands of pounds by using radio frequency identification to track its medical devices, according to a report.
Forth Valley Royal Hospital, part of NHS Forth Valley, has made cost avoidance savings of £360,000 through placing active radio frequency identification (RFID) tags on 10,000 out of its 14,000 medical devices.
The real time data collection allowed the trust to see exactly which equipment was and wasn't needed. In that way, it only purchased what was required and was able to sell on anything that wasn't being used.
The research says that 75 syringe drivers at a cost of £134,370 were removed from service. An example of an avoided purchase were 12 bladder scanners at the cost of nearly £100,000.
The report is titled 'Passive RFID Tracking of Mobile Medical Devices within Forth Valley Royal Hospital', and says a further saving of £200,000 is anticipated in the next financial year.
Co-author Bryan Hynd, head of medical physics at the health board, told Digital Health News there had also been significant efficiency improvements through the introduction of RFID tracking. He said his team previously "spent a huge amount of time trying to locate equipment in the hospital".
"The amount of time we were spending trying to locate equipment for maintenance was probably the same as actually carrying out the maintenance."
The report, published 24 April by Hynd and Michael Dolan, the physical sciences national lead at the Scottish government, says tags begun to be placed in June 2014.
It said the main drivers behind using RFID tracking included time wasted by staff finding equipment, poor equipment utilisation so more devices than necessary were in circulation, and problems keeping track of a large number of mobile medical devices.
Hynd said that "we've known for years we actually have too much equipment", but there was not the data to back it up.
He added that his team of 14 can now "pinpoint where in the hospital that equipment is, real-time, but so can the clinical staff".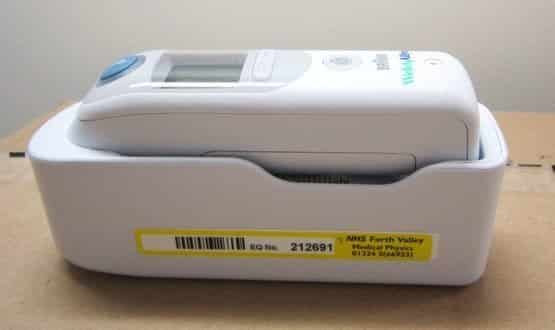 By March 2017, 10,000 pieces of equipment had a RFID tag, which included 650 standard hospital beds, 60 specialist hospital beds and 400 patient monitors.
RFID works by using electromagnetic fields to automatically identify and track tags affixed to devices. Each tag has an unique device ID number, and is either active or passive, depending on whether it has a battery or not.
In January, the Department of Health said its pilot in six NHS trusts for tracking patients, devices and staff with barcodes was showing signs of improving patient safety.
The £12 million 'scan4safety' project could save lives and up to £1 billion in the next seven years, said the Department.
The pilot sites are using 2D barcodes rather than RFID technology.
Barcodes in the NHS are not new and many trusts have been using the GS1 barcode for years. GS1 standards are used in many different industries but in health they allow for a globally unique identification of each person, product and place within the NHS.
They are also system agnostic, allowing the exchange of this information between different care providers and systems.
Other tracking methods include the Countess of Chester Hospital NHS Foundation Trust's plans to install TeleTracking Technologies sensors this year.
The static sensors placed throughout the hospital will use infrared to register the movement of readable tags. The trust's wifi network will send these readings to a "centralised care co-ordination centre", where the data will be collated, displayed and relayed to relevant teams.
NHS Forth Valley has invested £200,000 in RFID over two years, and says it has the largest number of fixed readers in any hospital in the UK.
The technology used is RFID Discovery which is the brand name for Harland Simon's solutions.
Forth Valley Royal Hospital has 860 beds, 26 wards and 16 operating theatres, and serves a population of 300,000 in the heart of Scotland.
Hynd concluded that while "the main challenge is actually the time to do it in the first place, the pay back in terms of times and resources is pretty quick".