Digital Health has partnered up with the Health Informatics Unit of the Royal College of Physicians to support the promotion of technology to improve the delivery of safe care, clinical leadership in technology initiatives and professionalisation of health informatics.
News
3
The solution has been designed specifically for mental healthcare and will be interoperable with the trust's OneAdvanced Carenotes EPR system.
Clinical Software
1
The company, which is Scandinavia's leading supplier of healthcare information systems, will be the speaker sponsor of the Clinical Software Zone of the Rewired Conference and Exhibition.
News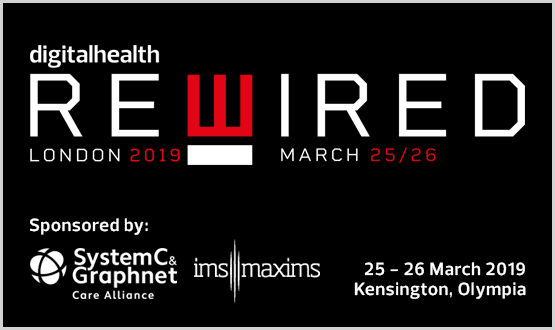 Anglo-Irish clinical technology specialist IMS MAXIMS has been named as the second launch sponsor for the new Digital Health Rewired show. IMS Maxims has joined as sponsors of the Digital Health Rewired Leadership Summit on day one and Clinical Software zone of the Rewired Expo on day two. Digital Health Rewired is the new two-day […]
News
Digital Health Rewired is the new two-day conference and one-day exhibition taking place on 25-26 March 2019 at London Olympia, that will connect health IT leaders and professionals with the latest disruptive digital health innovations.
News