Vin Diwakar, interim director of transformation of NHSE, is confirmed as keynote for Digital Health Summer Schools 2024, which has opened for registrations.  
News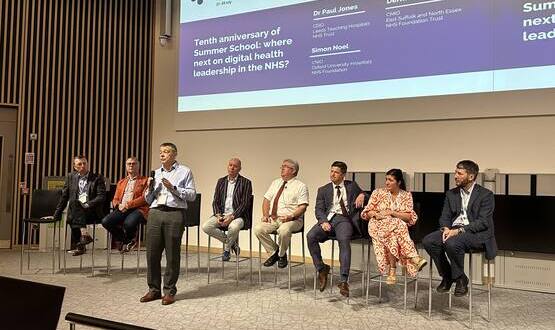 Past Digital Health Networks leaders look back at 10 years of Summer Schools and the incoming chairs of the Advisory Panels set out their priorities.
News
Richard Murray, CEO of The King's Fund, has been confirmed as the opening keynote for Digital Health Summer Schools 2023.
News
Jordan Sollof is joined by Ling Lee, a GP and digital trailblazer fellow in Derby, to discuss her experience as a Shuri Network Bursary holder.
News
Two senior NHS England leaders have been confirmed as keynote speakers for Digital Health Summer Schools on 27-28 July at the University of Birmingham.
News
Speaking at Summer Schools 2022 in York on July 15, Natasha Phillips introduced the review, which was first launched in May 2022.
News
The latest crop of Digital Health Award winners have been announced, with categories ranging from Rising Star in Digital Nursing to Digital CEO of the Year. 
News
NHS Digital's interim CEO has said he believes the centre of the NHS can be run more efficiently by reducing the headcount and moving resources.
News
7
The best and brightest digital leaders from across the healthcare landscape have been recognised as the Digital Health Award finalists are revealed. 
News
Digital Health is pleased to announce that we have launched three more bursary programmes for our Summer Schools event in July 2022.
News