The chief information officer of the NHS Wales Informatics Service ended up in health by "accident", but he is now leading work on many new systems. Sam Sachdeva met him.
Feature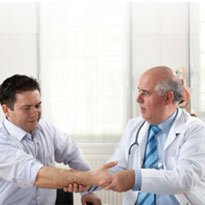 GP representatives in Wales have listed a series of safeguards that they want to see implemented before Individual Health Records are uploaded.
News
NHS staff at hospitals in Wales are using a new dedicated service desk and one number for IT support.
News
Hospitals in south-east Wales are to become early adopters of a new system developed with GE Healthcare that will allow them to share radiology images easily by joining up existing PACS. The PACS image sharing early-adopter is scheduled to begin in summer 2010 and run for six months. The work has been agreed under a […]
News
Wales is to begin rolling out its electronic referral system after positive feedback from pilot GP practices, Informing Healthcare has announced. The Welsh IT agency said its Welsh Clinical Communications Gateway, a version of the Scottish Care Information Gateway, will be rolled out to all health communities over 12 to 18 months, starting this June. Informing […]
News
The first GP practice and out-of-hours service in Wales has gone live with Informing Healthcare's new Individual Health Record solution. The biggest GP practice in Wales, the Argyle Medical Group in Pembroke Dock, which has 27,000 patients, has become the first practice to use the IHR solution from GP system supplier INPS. The pilot will […]
News
Welsh health minister Edwina Hart has given the go-ahead for the Welsh Clinical Portal, a secure online workspace for Welsh health staff. The move has been backed by £2.5m, and follows the approval of the business case for the patient portal, My Health Online, last week. The Welsh Clinical Portal is intended to display patient […]
News
The Welsh Assembly Government has announced it will invest £1.7m in a bilingual website that will enable patients to book GP appointments and order repeat prescriptions online. Informing Healthcare, the Welsh NHS IT agency, says it is developing a "bespoke NHS Wales website" with GP system suppliers, which will allow patients to interact with GPs […]
News
Primary care editor Fiona Barr looks over 2009.
Feature
Informing Healthcare has signalled a change of approach to delivering the Individual Health Record that is a key component of its IT strategy for Wales.
News