The Defence Medical Information Capability Programme emerged as the overall winner at the EHI Awards 2012 in association with BT. Daloni Carlisle finds out why, as EHI launches the 2013 awards.
Feature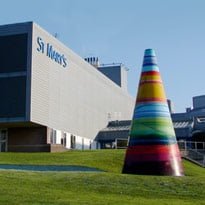 NHS Isle of Wight has chosen Logica to build its first electronic patient record system, using a combined integration and portal approach.
News
University College London Hospitals Foundation Trust has launched an investigation into a major IT failure that led to its A&E department being closed to all blue light traffic and more than 50% of its operations being cancelled.
News
Logica has signed a deal to deliver a clinical desktop system, supplied by Orion Health, to healthcare organisations covered by the South-Eastern Norwegian Regional Health Authority.
News
St Helens and Knowsley Teaching Hospitals NHS Trust has chosen Logica to provide the Paris system to support child health and community services in the North West.
News
University College London Hospitals NHS Foundation Trust has deployed a new system from LogicaCMG to support compliance with the government's 18 week referral to treatment (RTT) objective. The trust wanted to be able to electronically track the progress of every patient referred to them to ensure that they were offered an appointment within 18 weeks, […]
News
Connecting for Health has published the long list for its Additional Supply Capability and Capacity (ASCC) procurement with 116 companies named. The ASCC procurement is intended to establish a series of IT framework contracts that can be used by CfH and other purchasers to a "broad based supplier community". The IT framework contracts will comprise […]
News
The MOD is about to announce its final plans for electronic health records in the military. Jon Hoeksma looks at progress so far.
Feature
The MoD will award a contract to build an electronic medical record system that will be used across the whole armed services in the early part of next year, E-Health Insider has learned. Two groups headed by IBM and Logica CMG are building separate electronic medical record systems for the Defence Medical Information Capability Programme […]
News
More than two thirds (68%) of IT managers around Europe think too many products and services are launched with insufficient testing, according to research by the IT services company, Logica CMG. NHS trust managers were included in the respondents to the survey which found that, while organisations claim that software testing is a strategically important […]
News