Services that allow users to rate NHS care have been around for longer than you might think; and there are new apps coming onto the market. Digital Health News reporter Thomas Meek charts their development in his latest column.
Digital Patient
Health Secretary Jeremy Hunt has ordered a review to assess the merits of an 'Ofsted style' system of ratings for hospitals and care homes.
News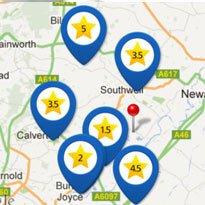 A new iPhone app, called 'GP Ratings', has been launched to help people choose which GP surgery they should register with.
News
Patients are good judges of the standard of the hospitals they use, according to a study that compared comments on NHS Choices with other measures of quality.
News
Dentists have become the latest group of healthcare professionals to be subject to ratings from their patients.
News
More than 50% of GP practices have now been commented on or rated by patients on NHS Choices, according to the Department of Health. Latest figures show that patients have rated or left a comment about 4,661 out of 8,300 GP practices in England since website launched its GP ratings functionality in October. A total […]
News
The patient feedback site Patient Opinion has linked up with NHS Choices to enable patients to comment online on mental health services. The partnership between the Department of Health's flagship website and Patient Opinion is due to be launched today by care services minister Phil Hope. The DH said the partnership means service users, carers […]
News
NHS Milton Keynes has announced that it will be the first primary care trust in the UK to use ratings and reviews for individual GPs. The PCT has signed a deal with ratings website iWantGreatCare.org to collect information on local GPs. The PCT said patients would be actively encouraged to provide feedback each time they […]
News
Patients have rated more than one in four GP practices on the Department of Health's controversial scorecard for surgeries since its launch on NHS Choices. Figures from the end of the first fortnight show patients had completed the scorecard for 2,132 out of 8,269 practices in England, with a total of 2,764 ratings submitted. The scorecard asks […]
News
The GP practice rating service launched by NHS Choices received 1,600 comments in its first 24 hours of operation, according to the Department of Health. A DH spokesperson told EHI Primary Care that about 80% of the comments received were positive and said it would continue to monitor the number and type of comments made. […]
News