Jeremy Hunt is to remain health secretary following the Conservative Party's victory in last week's general election, and the formation of the first all-Conservative cabinet in 18 years.
News
Twenty fourteen was a year of waiting: for a financial crisis, and a plan to avert one; for tech funds and the IT strategy to support them. Fortunately, things happened in the meantime. Lyn Whitfield reports.
Feature
The National Information Board has issued its much delayed IT strategy – 'Personalised Health and Care 2020' – which ties NHS IT more closely into health service policy, financial and regulatory frameworks.
News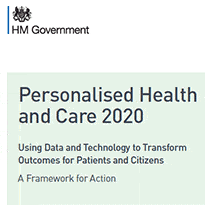 The National Information Board's IT strategy includes a strong drive on standards, as it attempts to chart a course between a centralised approach and encouraging local innovation.
News
The National Information Board will publish a framework next week to make sure the NHS can "get behind" the information revolution promises of the 'Five Year Forward View'.
News