A child safeguarding template has been directly put into a clinical commissioner group's electronic patient record (EPR), allowing for training, alerts and shared information across GPs.
Developed in-house by Arden and Greater East Midlands Commissioning Support Unit (CSU), 30 primary care sites now use the safeguarding template that links into their SystmOne EPR.
The CSU says child safeguarding means "keeping children safe from significant harm".
The template is a menu through which a healthcare professional can check through signs of neglect, physical, sexual or emotional abuse. It also stores all the vulnerable child's forms in one place, and places an alert on the record.
Marianne Berry, IM&T manager and project lead from the CSU, said it was developed for two reasons.
"One of the reasons was for training. The second reason was – all the practices had all their safeguarding information in a folder so you'd have to find that patient in a folder, whereas this will automatically flag within a system that a patient is on the safeguarding, or is a vulnerable person as soon as you go into the record."
It was launched in April, and is now used in 27 GP practices, two branch sites and the primacy care children's team within Milton Keynes.
Berry says the practice teams have taken to it "because everything is in one place for them, don't have to look into books or on their notice boards, just click on that template".
NHS England has a series of policies in place to provide safeguarding children, which includes awareness and support strategies.
Nigel Fagan, Milton Keynes GP and Local Medical Committee chair, described it in a statement as an "excellent resource for clinicians particularly those who do not have day-to-day involvement with safeguarding issues with regard to children."
"It has all of the information needed and relevant referral forms, which are pre-populated wherever possible, together with advice and very useful links."
On the templates there are also different sections for female genital mutilation and body maps for physical abuse.
Berry said the plans for the future would be the creation of a multi-agency safeguarding hub, meaning that different care agencies "could access, use the template and share the information".
The other sectors could be the council for social care, schools and the police.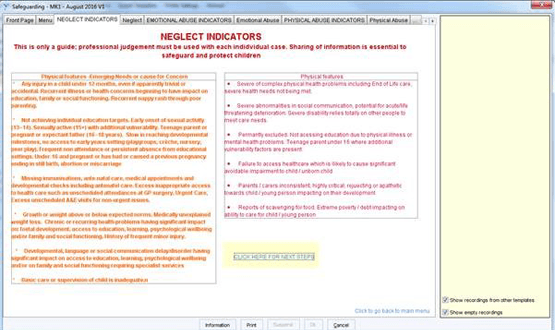 Andrea Piggott, designated nurse for safeguarding said in a statement that she "wanted to provide a tool for professionals in line with national and local guidance, to assist in identifying children, young people and families who may be in need or at risk of harm".
"The solution needed to ensure children get the right response from the right service at the time they need it."
There are also moves at a national level to ensure that vulnerable children do not fall between the cracks of the care system.
NHS Digital's Child Protection Information Service (CP-IS) is a project that links information about vulnerable children between social care and unscheduled NHS care settings via the NHS Spine, specifically alerting clinicians if a child is subject to a child protection plan.
However, it has faced several delays with Digital Health News reporting its final roll out date was moved out by a year this month.
In March 2015, the government released an inter-agency guide to safeguard children that gave advice on how to safeguard children, that was aimed at workers including those in social, health, education and police sectors.