In funding top performers rather than the less digitally mature, the global digital exemplar (GDE) programme could be construed as representing something of a change of pace for national investment. But the sharing of knowledge, via a process of 'blueprinting', was frequently emphasised as a pre-requisite to becoming a GDE. Claire Read explores how that process is developing, what's next, and discovers why the group leading it is so keen to get feedback.
For the past year, a small group has been working on one of the biggest brainteasers to have emerged around the global digital exemplar (GDE) programme. The challenge in question: just how will the knowledge these forerunners hold be shared with the wider NHS? And how can the less digitally mature organisations inform how the programme develops over time?
The GDE Blueprinting and Learning Network Steering Group was established last summer. Co-chaired by Gareth Thomas and Paul Charnley – group chief clinical information officer at Salford Royal NHS Foundation Trust, and IT and information director at Wirral University Teaching Hospital NHS Foundation Trust, both of which are GDEs – it is charged with finding the most effective way to pass on GDEs' expertise, while understanding the needs of the wider NHS.
The stakes can be seen as high. In a blog for NHS England earlier this year, Matthew Swindells and Will Smart made clear that "GDEs volunteered to join the programme and commit to it", and that a big part of that commitment was to "develop blueprints that take the insights and deployment experience of GDEs and core technical 'build' of their system, and work with Fast Follower organisations to implement these blueprints".
Added the national director – operations and information and England's chief information officer for health and care: "We want to minimise the costly replication and learning from scratch that seems to happen with every EPR project at present."
Not just about the tech
According to Thomas from Salford Royal, that means ensuring blueprints are not simply a set of highly technical IT documents. "Our vision is they will highlight the other important ingredients needed for sustainable healthcare transformation, such as organisational leadership and culture, clinical and staff engagement, alongside the programme governance and other processes required," he says.
Charnley explains that four pilot blueprints have now been developed along those lines. "One is a clinical pathway – e-sepsis in Liverpool; one on an organisation's capability, with barcoded drugs administration in Cambridge; and one a setting, with patient flow through the accident and emergency department at Luton and Dunstable (the country's top performer on the four-hour wait target); and one with Birmingham on patient portals."
He says these pilot blueprints cover aspects such as planning, implementation, sustaining the initiative, evaluating its outcomes as well as – crucially – top tips on what works alongside details of what to avoid doing. Asked how they have been developed, the two report it has been a case of first developing a methodology and framework and then shaping a guide and templates with the intention of supporting other sites designing their own blueprints.
A work in progress
They are quick to highlight that it's a work in progress. "The process is far from being set in stone," says Charnley. "We want to make sure that the blueprints, and the way in which they are put together, are going to be as useful as possible to the largest number of people, and that is going to mean seeking feedback."
Adds Thomas: "Part of that will involve deciding on how we prioritise blueprints; which ones we should focus on first. Should we be focusing on specific aspects of care settings, capabilities or care pathways? Or should we try to cover the complete picture in one organisation? How do we ensure that the blueprints are relevant to and support other NHS initiatives? All of those are open questions at the moment, and we're keen to hear others' views on these important issues.
Keen for feedback
"We're aware that the focus at this stage has been on GDEs and fast followers," he continues. "The steering group is made up of members of those sites. But of course the main users of the blueprints are going to be organisations which are less digitally mature, and so it's crucial we hear from them on what they need."
To that end, the group is running a Best Practice Webinar with Digital Health on Friday 29 June 2018. Charnley and Thomas will both present, as will those from some of the pilot blueprinting sites. "But importantly there will also be a chance for viewers to ask questions and offer feedback," says Charnley.
He and Thomas will also be presenting on the first day of Summer Schools. "We want to ask attendees to help us co-design some of the blueprint programme, so we're really looking forward to an interactive-style session."
"It's really important to get this right," adds Charnley. "The GDEs have benefited directly from funding, but it's always been a priority to ensure the entire NHS benefits from that in turn."
______
On 29 June, Digital Health's best practice webinar will explore blueprinting. A small expert panel – which will include both Paul Charnley and Gareth Thomas – will review progress so far and consider plans for the future. Register now.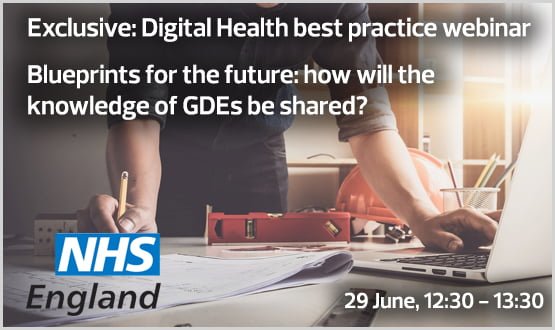 Charnley and Thomas will also be speaking at Digital Health's Summer Schools on the blueprinting process, and inviting audience feedback on it. The event takes place on 19 and 20 July at the University of Birmingham.