Digital Health Unplugged Archive
Digital Health Unplugged is published on Spotify, Apple Podcasts and many of your other favourite podcast platforms.
We aim to publish episodes on a monthly basis but this can change due to unforeseen circumstances.
Our next episode is due to be published in September and will feature a panel of our 35 under 35 Summer School bursary placeholders. Future topics include recent cyber incidents and a news team debrief.
Follow us to stay up-to-date with the latest news. You can also download the podcast from digitalhealth.podbean.com or through the Podbean app.
Got a podcast suggestion? Email podcast@digitalhealth.net.
Join the panel as they discuss concerns around using patient data to trace corornavirus and the steps the NHS needs to take to ensure privacy.
News
1
Join senior reporter Andrea Downey, editor Hannah Crouch, and editor-in-chief Jon Hoeksma as we discuss the development of contact-tracing apps.
News
Join the panel as we discuss how digital tools can be used to manage pressure on the NHS, the importance of EPRs and upskilling the workforce.
News
Join our news team, editor Hannah Crouch and senior reporters, Andrea Downey and Owen Hughes, as they talk through the Covid-19 stories making headlines.
News
Join our news team as we discuss the biggest stories of the month on Digital Health Unplugged. This month we look at coronavirus and the Digital Aspirants.
News
Digital Health Unplugged hosted its first all-women panel discussion at Rewired 2020, where diversity, inclusion and representation were high on the agenda.
News
Join us as Digital Health's editor, Hannah Crouch, editor-in-chief Jon Hoeksma and senior reporter Andrea Downey discuss the biggest headlines of the month.
News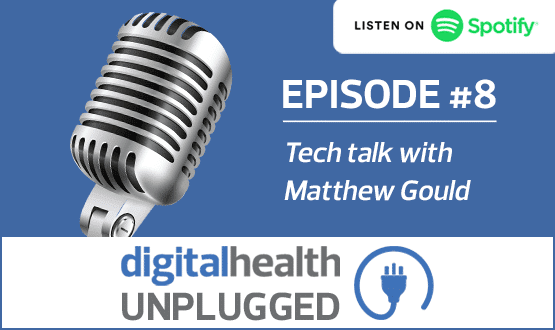 NHSX chief Matthew Gould joins Andrea Downey on this week's podcast to talk funding, technology, standards and provide an update on NHSX's core commitments.
News
Struggling to scale technology in the NHS? Turns out beer and pizza may hold the key – tune in to Digital Health Unplugged to find out more.
News
This week's podcast is our first debriefing with Digital Health's editor; Hannah Crouch; senior reporters Andrea Downey and Owen Hughes; and editor in chief, Jon Hoeksma.
News
Loading ...