Southern Health NHS Foundation Trust has launched a mobile app for patients to send feedback to the trust as a video, sound recording, picture or text.
News
A physician at the Nottingham University NHS Trust has developed an app to make it easier for new doctors to access treatment guidance documents.
News
TPP has announced a BlackBerry application and an Android app to allow clinicians using SystmOne to access their patient records anywhere at any time.
News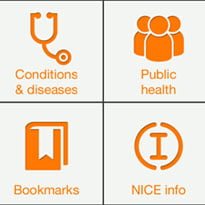 The National Institute for Health and Clinical Excellence has created an app to give healthcare professionals "quick and easy" access to its recommendations and guidance.
News
Kaiser Permanente has developed an Android application that allows patients to access its 'my health manager' electronic medical records and healthcare services.
News
TPP has started to develop an Android app to allow GPs to work on SystmOne when they are away from their desks.
News
Cambridge University researchers have developed software for mobile phones to 'infect' others to simulate the spread of flu.
News
NHS Direct will launch a series of apps for the iPhone, Android and Blackberry devices over the next month.
News
NHS Coventry has launched a sexual health app to make local services easier to find.
News
NHS Bristol has launched a free iPhone application to provide patients with information on NHS services in its area. The primary care trust said its application, which can be downloaded from iTunes, is the first of its type in the UK. The application provides details of every health service in Bristol, including GP practices, walk-in […]
News