Matthew Gould answered a number of questions ranging from how his previous job experience could help in the new role, to his recent tour of the country.
News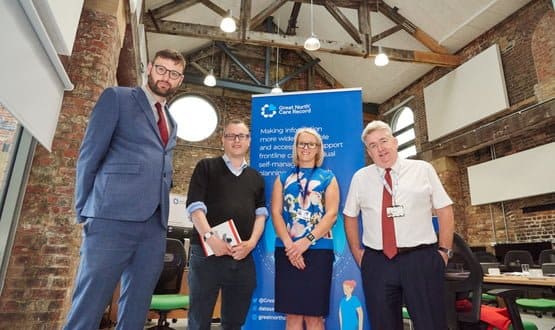 Gould visited the offices of the Great North Care Record in Newcastle to find out more about the regional drive in digital healthcare technology.
Shared Records
Hadley Beeman and Dr Simon Eccles will act as NHSX's new chief technology officer and deputy CEO respectively, Matthew Gould announced.
News
3
Matthew Gould spoke to Digital Health News ahead of the launch of NHSX, including on the topic of whether the unit will have control over NHS IT money.
News
4
To mark the launch of NHSX, CEO Matthew Gould, has penned an exclusive piece for Digital Health, speaking about his UK tour and his aims for the unit.
Feature
3
The NHSX CEO addressed the fact that the unit follows a long line of much-promised IT change such as the National Programme for IT and Care Dot Data.
Clinical Software
3
In a blog post, the NHSX CEO confirmed the unit has carried out a "major review of NHS tech spending" and some projects have been closed.
News
1
Matthew Gould said the health service was "in danger of creating unrealistic expectation and demand" in terms of digitalisation.
News
4
Digital Health News ran a poll to ask readers whether they think Matthew Gould's comments about the app were right or not.
Digital Patient
1