As part of the agreement, System C will sell Induction Zesty to new and existing customers of its CareFlow electronic patient record.
Clinical Software
The year 2021 has been hectic but ground-breaking in the world of digital health. We asked health tech suppliers to give their predictions for 2022. Here is what they had to say:
News
Royal Free London NHS Foundation Trust has deployed a portal which allows patients to view their appointments and letters.
Digital Patient
A reseller deal will see Zesty offer its patient portal to existing Cerner clients with the pair also working on a patient engagement solution.
Clinical Software
Induction Healthcare has announced it intends to acquire the cash and shares of health tech company Zesty Limited in a deal worth around £13million.
Clinical Software
This month's movers and shakers covers appointments at Kent and Medway CCG, South West Academic Science Network and Zesty.
News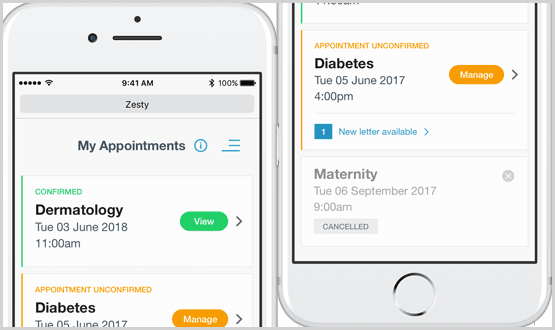 At Milton Keynes University Hospital NHS FT, a new app for outpatients is starting a journey of greater patient empowerment, data sharing and gathering.
Feature
1
Appointment booking service Zesty has been named amongst 50 of the most forward-thinking digital UK companies in 2018's Digital Innovator's Power List.
Digital Patient
1