Transformation – Advisory Series, January 2018
By Jennifer Trueland – Digital Health
As reports emerge about cancelled operations, "black alerts" and soaring hospital admissions, it is clear that NHS is struggling to cope with winter pressures. Can technology come to its rescue and drive the transformation to help ease those significant pressures? Jennifer Trueland investigates.

While winter has traditionally been the busiest time of the year for the health service, you know things were not looking good when emergency departments saw increase in four-hour delays (year-on-year) and rising numbers of patient admissions in summer last year.
In fact, there was a growing clamour of voices warning that the NHS was getting to be like Narnia in the days of the White Witch – that is, condemned to perpetual winter. Siva Anandaciva, chief analyst in the policy team at The King's Fund, had warned of "an NHS winter that never seems to end".
A similar message came from the Royal College of Emergency Medicine in September 2017. Commenting on publication of A&E stats for the summer months, college president Taj Hassan had said: "These figures really bode ill for the winter ahead."
As their predictions come true and A&E departments struggle to cope across the country this winter, can technology transform urgent and emergency care and ease the inevitable pressures?
Amanda Neylon, NHS Digital's relatively newly appointed director for urgent and emergency care and widening digital participation, says that existing and new digital services can help. But she cautions: "While I think technology has a huge role to play, it's not a silver bullet solution; it's a part of a much wider system and everyone has a part in that."
Ms Neylon can point to many initiatives in which technology is being used both to divert patients away from A&E where appropriate, and to smooth their journey when an A&E visit is necessary. That includes ensuring emergency departments and urgent treatment centres have access to extended patient data via the summary care record, so improving triage and speeding up decision-making.
It also includes enabling NHS 111 to book patients directly into urgent treatment centres and GP out-of-hours practices. But she admits there are challenges in putting the latter into practice, even when the technology is there. "There's a culture piece there too; we need the appointment slots to open up," she says.
In a recent blog for NHS Digital, she outlines several examples of good practice taking place at local and national levels. Talking to Digital Health, she accepts that there is still a challenge in getting them to a point where they can be rolled out at scale and knows that there is no one-size-fits all.
She believes, however, that the urgent and emergency care vanguards are helping to show what can be achieved. "The vanguards are showing the potential benefits of technology," she says. "But we can't get away from the fragmented nature of the NHS and the interoperability challenge. There are lots of organisations and lots of suppliers and it can be a bit difficult to put the pieces of the jigsaw together."
So how are efforts to transform urgent care through digital and technology stacking up on the ground? Will better use of IT mean an urgent and emergency care sector better prepared to combat winter pressures?
As ever, the answer probably depends on where you are. In mid-October, a report into Southern Cluster – three urgent and emergency care vanguards – suggested that progress was being made, albeit not across the board, and that deployment of some technology was already bearing fruit.
In particular, the RAND Europe report says that direct booking into primary care in the out-of-hours period is progressing – so that patients contacting NHS 111 are booked directly in to attend an urgent care centre, making them less likely to ignore advice and head for A&E.
Also on the positive side, it reports that Cambridge and Peterborough urgent and emergency care (UEC) vanguard has increased use of the mental health-specific option in NHS 111, and of First Responders, leading to a 19 per cent reduction in emergency department attendance by mental health patients.
Major blocks remain, however, including slower progress on booking GP appointments through NHS 111 in-hours, and, inevitably, issues of poor data sharing and interoperable IT infrastructure between providers.
Sonja Marjanovic, a research leader with not-for-profit research institute RAND Europe and one of the report's authors, says the issue goes further than IT. "We're still in a phase where technological development has outpaced society's ability to process it," she says. "The social challenge is as large as other challenges such as interoperability and data storage."
Technology is making a difference, she says, pointing to action in the South Devon and Torbay and Cambridge and Peterborough UEC vanguards to upgrade the Directory of Services – information about local services and facilities to enable patients to be directed to the most appropriate place.
"Real-time updates mean the directory is more accurate," she says. "The aim is to help GPs and ambulance services to see what services are available. Uptake was slow in the beginning, but awareness raising, such as engagement with ambulance crews, is helping to change that."
She also cites gradual progress in data sharing and the use of the summary care record, saying that it is helping with the decision-making process.
Again, however, she stresses that it's a wider societal issue, and that culture change is needed. "Radical change takes time, it takes building the workforce, and it takes funding," she says. "It also depends on public buy-in: we have to see patients who call NHS 111 having a good experience so that they do it again, rather than just going to A&E. "
Nevertheless, she is optimistic that the health service is moving in the right direction in terms of harnessing technology to improve urgent and emergency care. "The momentum is there and the goodwill is there," she says. "But we're at a critical point. For it to work, it can't be focused only on one area, such as acute care. It has to be system-wide."
So what impact are these initiatives actually having on England's emergency departments?
Suzanne Mason, who has a dual role as a consultant in emergency medicine at Sheffield Teaching Hospitals, and professor of emergency medicine at Sheffield University, also points to geographical variation.
Mason, current treasurer of the Royal College of Emergency Medicine, says different emergency departments are at different stages of technological maturity – and warns that from a clinical perspective, some systems can hinder as well as help.
"We have electronic systems to record patient information, such as when they arrive, what we do with them, and what happens to them next. There are two schools of thought: on the one hand, it improves the ability to track patients, and the information is more accurate. But it can also be very slow and clunky, and you can find you're spending a lot of time looking at a computer screen and recording things rather than looking at the patient."
"There's a real issue with hardware [in the NHS] and when the technology fails, you can't do anything. It's a double-edged sword: there are good things about IT, but there's still a long way to go," she says.
On the positive side, a full electronic record of a patient's journey from initial contact, through to discharge (or death) is a hugely valuable resource, not least from a research perspective. "It's great in terms of culling data," adds Mason.
She has been involved in a project over the last three years to link data across the patient pathway, showing the advice given when the patient contacted 999 or NHS 111, whether they took the advice ( for example, did they go to A&E despite being advised to see their GP the next day), and what happened to them after attending A&E.
This should help find out where the frictions in the system lie, and where change efforts should be directed and as such, has enormous potential.
Neylon agrees that research is critical to future service improvements, and is optimistic that the work being put in now will have a real transformative impact. "Using technology in this space is making a difference to urgent and emergency care, and I believe it will make an even bigger difference in the future," she says. "It takes time, but the opportunities are there."
---
Keep calm and transform your clinical documentation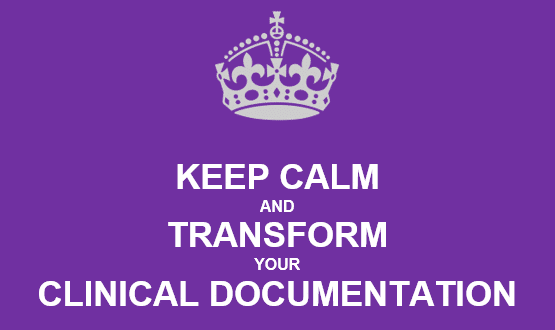 By Nuance
High Stakes for clinical documentation investments
For much of the past five years or so UK healthcare leaders have been hyper-focused on selecting, implementing and maintaining integrated, highly complex Electronic Patient Record (EPR) and other clinical documentation systems across facilities and care settings. The goal of a paperless NHS has been ambitious and the stakes have been high. For many health leadership teams the EPR purchase has been one of the most prominent single financial investments in the history of their organisation.
Technology investments which support healthcare transformation – not the other way around.
Juliet Bauer, Director of Digital Experience at NHS England, underlined this point at the CCIO summer school. She described the importance of putting patients at the centre of any digital health experience. She felt too much attention has been placed on the supply of technology solutions rather than understanding the nature of the demand and improving technology adoption.
The hump in the road
Illustrating Juliet's point, the uptake and adoption of the EPR and subsequent hoped-for clinical transformation has been slow. Clinicians have often struggled to overcome the administration workload presented by digitising the patient record within the EPR. Whilst they scroll and hunt through myriad screens within the EPR, navigating pull down menus or check boxes and labouring with one-fingered typing, there is a risk that the focus is on the system and the technology rather than the patient. Our own research into the challenges of clinical documentation revealed that:
50% or more of healthcare professionals' time is spent on clinical documentation processes
68% of the clinical documentation is narrative and difficult to capture in the standard templates and click boxes of an EPR
1 in 4 times the information contained within the clinical documentation wasn't available to the level required
At risk are the investment benefits promised by a complete, accurate, timely record of the patient journey at each-and-every point-of-care.
Reducing the friction, improving outcomes
At Nuance our goal has been to reduce the friction between the healthcare professionals and the technology they are using. Our healthcare speech recognition solutions improve the usability of the EPR by providing a more natural and seamless interface with the EPR. In this way we help health organisations maximise their technology investment, optimise outcomes and accelerate toward meaningful clinical transformation:
An hour or more per healthcare professional per day saved on clinical documentation
Instant sharing of patient information with multi-disciplinary teams
Turnaround times of patient communication down from weeks to minutes
Zero reporting backlogs
Back-office resources freed up
The bigger picture
Once clinicians are happy using the EPR in their day to day work it is time for health leaders to take a breath and become less-operationally focused and start to consider the bigger transformation picture. Instead of the day-to-day questions, like "How can I get my clinicians to use the EPR?" they can start asking more future-oriented questions, like "How can we optimise our EPR?"
Putting your investment to work
Now the exciting work of real clinical transformation can begin. Organisations can get to work on using the EPR as a platform for leveraging big data, AI and machine learning and start to see how the data captured within EPRs are the foundation for dramatic changes in the way care will be delivered.
To read more about how we are freeing healthcare professionals from the burden of clinical documentation administration to spend more time with their patients, improving patient experience and outcomes and releasing more resources to invest in health services transformation go to:
http://engage.nuance.co.uk/digital-technology-transforms-healthcare-future-nhs?cid=7010W000002WKJYQA4&ls=website&rs=www.digitalhealth.net&offer=Dragon_Medical&ot=contact_request_for_meeting_demo
---
Transformation relies on effective partnerships and intelligence
By Cerner
Transformation has become a commonly used term in healthcare that is applied to a vast range of areas. We believe that true transformation relates to a whole-system change across the entire health and care economy that delivers value-based care, reduces morbidity and keep people out of care. Among other things, transformation at this scale depends upon successful partnership, connected data and system-wide intelligence.
Partnership for innovation
Success will rely on strong partnerships between all parts of health and care: primary and secondary care, mental and physical, NHS and local authority, and – most importantly – with the citizen. To scale the ability to transform across the care continuum, the whole system must commit to connecting information, agree information governance, integrate systems, empower the workforce, and fundamentally alter the way in which people are engaged, and engage, in their care.
Sustainability and transformation partnerships (STP) and accountable care systems (ACS) provide the opportunity to ignite this transformation by breaking organisational and data silos. This changes the experience of care for citizens and care providers, and partnerships with the right innovating suppliers can underpin this shift.
Linear data connections are not enough
While connecting care information with a Health Information Exchange (HIE) is an important step to inform clinical decisions, that alone is simply not enough to truly drive transformation. Big data from today's health, social care, environment and other government systems must be transformed from disconnected, linear information into clinically driven, actionable intelligence and knowledge that helps the move from being reactive to becoming preventative.
Economy wide intelligence
At Cerner, we built our advanced data intelligence platform, HealtheIntent®, to underpin transformational partnerships and change programmes. It collates all data from disparate systems into one single source of truth that is capable of driving intelligence to enable you to know your population, plan and manage outcomes and engage citizens with their care. We understand that technology is just one component of your transformation journey. Experience tells us it must be underpinned by trusted partnerships – transparent engagement alongside clear and compliant data sharing. We are working with others to create frameworks such as the Accountable Care Learning Collaborative to help integrated health and care networks to establish and mature the capabilities required.
Connecting health and care data enables us to apply intelligence across the health and care system. This allows us to interpret and analyse multiple data sources and provide clinical recommendations at both population level and person level through providing actionable insights directly into health and care professionals' workflow and information systems. Working in near real time, HealtheIntent enables commissioners and providers to see gaps in care and opportunities for service improvement, gain visibility of those most at risk of an illness or readmission, and take proactive action to intervene so people are kept in the most appropriate care setting and workforces can handle predicted demand. In a nutshell, HealtheIntent allows you to truly understand your population and take action to achieve positive outcomes.
Over 130 health systems around the world use HealtheIntent today to underpin their transformation, integrate services, reduce morbidity and improve wellness in their populations. It is evident in these and our thousands of other partnerships here in the UK and all over the world, that transformation is not simple – but health and care rarely is.
We believe we can help you today to transform tomorrow.