This month's industry round-up features news digital rostering provider Patchwork has launched a platform to provide NHS trusts insights on their data and a wearable robot could help people with multiple sclerosis stay active.
Patchwork launches new insights platform
Digital rostering company Patchwork has launched an insights platform to give health organisations power over their data.
Patchwork Insights makes sense of the mass of temporary staffing data most organisations have, and unlocks real-time insights and intuitive reporting to enable more effective, data-driven decision making.
The platform offers a broad range of features, tailored to the requirements of each organisation, including financial dashboards to allow organisations to keep better track of actual and forecasted spend, and the likelihood of meeting targets, so they can efficiently manage their budgets.
Temporary staffing performance indicators will allow managers to assess potential ward cover issues, as well as monitoring how well the organisation is adhering to recruitment targets.
Dr Anas Nader, chief executive of Patchwork, said: "For far too long, healthcare organisations have had no option but to rely on ambiguous, piecemeal information and basic data reporting to devise entire temporary staffing strategies.
"The ambiguity stops here. With Patchwork Insights, we equip organisations with the right tools and sufficient knowledge so they can plan earlier and more effectively.
"Ultimately, the platform will help organisations to transform their temporary staffing function and introduce data-led decision making; saving money, freeing up time and improving patient safety."
Patchwork's team of workforce data specialists will actively monitor the insights at each organisation and provide ongoing coaching and tailored recommendations.
Crowd-funding initiative brings digital health innovators together
Torbay and South Devon NHS Foundation Trust and HCI have launched a crowd-funding type concept, HEALTH CoLab, that brings together collaborators to co-fund digital health projects.
HEALTH CoLab aims to solve problems around cost of digital interventions in care pathways.
Ideas can be generated and the costs shared with like-minded peers countrywide.  Collaborators can influence the content of the project, get the digital interventions they need at a lower cost, and be up and running with the resources more quickly.
Ellen Jenkins, director of business development at HCI, said: "In the work we do, we see and hear about many potential digital health projects that would considerably improve our health system. Having HEALTH CoLab gives individuals the opportunity to bring their ideas to life and share the cost of development.
"We help put the project costings together then promote it on the HEALTH CoLab webpage and share with interested parties. Ideas could range from suggestions for videos, a patient condition app or support to redesign a clinical pathway of care."
Wearable robot could help people with MS stay active
UK scientists are to investigate whether wearable robots could help people with multiple sclerosis (MS) get more exercise.
The MS Society has committed to raising nearly £40,000 to support Dr Siva Nair and his team at Royal Hallamshire Hospital in Sheffield, who will examine how powered exoskeletons – or robotic suits – might improve physical fitness in people with mobility issues caused by MS.
Dr Nair said: "We all know how important exercise is. A lack of it can cause heart disease, stroke, diabetes, obesity and depression. So we need to find a way to make it easier for people with advanced MS to take part in physical activity.
"Robotics is the natural step forward. By embracing this technology we are giving people who can't walk the chance to exercise like everyone else.
"We understand it's not every day you see someone in a robot suit, and society might need to adjust to such a weird and wonderful sight. That's why we're also going to be observing the personal implications of keeping fit in this way – including whether the person wearing the exoskeleton feels it's an accepted way to exercise."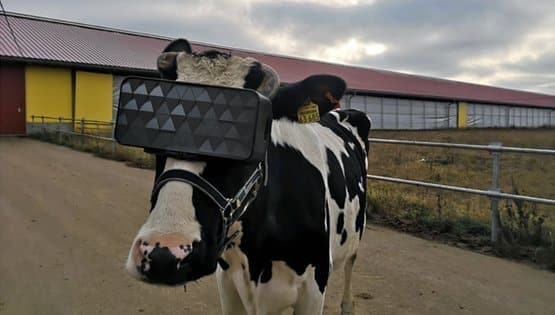 Cows chill out using VR headsets
In slightly more bizarre (animal) health tech news, a Russian farm has given their dairy cows VR headsets to help reduce their anxiety and improve their mood.
The headsets had been adapted to fit a cows head properly before they were shown a "unique summer field simulation".
"During the first test, experts recorded a decrease in anxiety and an increase in the overall emotional mood of the herd," a press release from Moscow's Ministry of Agriculture and Food stated.
"The impact of VR glasses on the milk production of cows will be shown by a further comprehensive study. While maintaining the positive dynamics of observations, the developers intend to scale the project and modernize the domestic sphere of dairy production."