The National Institute for Health and Clinical Excellence has created an app to give healthcare professionals "quick and easy" access to its recommendations and guidance.
News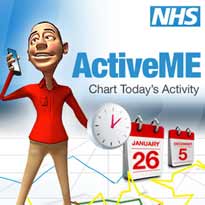 An iPhone application has been launched to help patients with chronic fatigue syndrome / ME keep track of their energy levels.
News
Cambridge University researchers have developed software for mobile phones to 'infect' others to simulate the spread of flu.
News
Anatomy is the latest discipline to embrace the iPhone, with a new app developed at Warwick University offering medical students bite-sized master classes on screen.
News
Almost one in three people expect to be able to have a consultation with their GP via webcam in ten years' time, according to a survey by Virgin Media Business.
News
A new blood pressure monitoring system has been launched that that enables users to track and graph their blood pressure, and then share the information, using their iPod touch, iPhone or iPad.
News
Former health minister Professor Lord Ara Darzi has launched an iPhone app that allows users to rate NHS services and create a basic medical record they can share with health professionals.
News
NHS Dumfries and Galloway has commissioned a security assessment of whether iPhones, iPads and iPod Touches are secure and suitable to be used within the hospital environment, ahead of trying a handover app from Cambric Systems.
News
More than 500 medical students at the University of Leeds have been given iPhones so they can access progress files, assessment modules and educational tools as part of their studies.
News
NHS Bristol has launched a free iPhone application to provide patients with information on NHS services in its area. The primary care trust said its application, which can be downloaded from iTunes, is the first of its type in the UK. The application provides details of every health service in Bristol, including GP practices, walk-in […]
News