Implementing a trust-wide electronic patient record is "a huge undertaking" for trusts, and support from national bodies is key to success, says a leading trust CCIO.
Mark Simpson, from Hull and East Yorkshire Hospitals NHS Trust, was speaking at the 2017 NHS Confederation conference. He told delegates that he didn't sleep for three days when, in June 2015, his organisation implemented DXC's (formerly CSC) Lorenzo EPR.
This month marks two years since the trust switched from its 13-year-old iSoft PatientCentre system and rolled out Phase 1 of Lorenzo, as part of the National Programme for IT.
He said senior staff from NHS Digital were part of the trust's Lorenzo programme board, and had been "close partners" throughout the project initiation and beyond. "They have been a great ally to have."
He suggested continuing involvement from the NHS Digital would be key as the EPR evolves further. "That's really what our request is from NHS Digital, with the future iterations [of the system.] How do we do this with more support and less pain? How do we make sure that we don't put the system under more stress as we gear up for a product change or a product enhancement?"
Speaking to Digital Health News after his conference speech, Simpson – who is also the chair of the national Lorenzo user group – reported that the implementation of the system had made a big difference to the performance of the organisation.
"The idea of us going back to the way we were some two years ago would shock the staff and the patients", Simpson said.
"We had an ageing emergency department in particular, but also an ageing IT solution, it was old and creaking. Some of the abilities to share information throughout the trust or with partner organisations such as primary care were very limited."
Despite initial hiccups with Lorenzo, for which for they have signed a seven-year contract, Simpson said digitisation – including through national schemes like the Summary Care Record (SCR) – has led to positive change at the trust.
He said complaints have dramatically reduced, patient flow has improved, and the trust has had a huge reduction in the amount of time patients are waiting in departments.

At Hull Royal Infirmary they had exceeded capacity with people overflowing into corridors. "It wasn't going the right way, this was as bleak as it was for us," Simpson said.
As of a month ago the trust went live with Lorenzo across advanced bed management, static care plans and maternity, with electronic prescribing left to go.
"We have also gone live with 75 of our near 100 GP practices. They can actually see into Lorenzo through a browser to get immediate information on their patients who have contact with secondary care", Simpson said.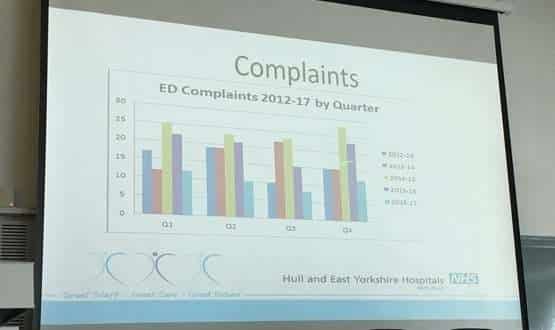 "We're also looking at linking digital radiology reporting with GP practices so they can get near real-time reporting."
The trust has also added three kiosks in its emergency department where patients book themselves in upon arrival. More than 200,000 patients have used the service which is Spine matched with NHS Digital. He said it has improved efficiency and flow.
"Information technology is fantastic when it's allied with highly motivated staff who will deliver effective and timely care", Simpson said.
"We cannot just parachute it in and walk away, it just won't work, it has to be part of an orchestrated solution… We changed the processes and the results are starting to come through."