The introduction of online appointment letters at Barnsley Hospital NHS Foundation Trust is being credited with a decrease in the number of patients missing appointments.
The trust officially deployed electronic outpatient appointment letters in June this year, allowing patients to receive the letters directly to their mobile phone.
About 40% of patients are using the digital service with Martin Ball, deputy head of procurement at the trust, hoping that number will grow to 60% within the year.
"So far the feedback has been really positive. If we can get to 50 to 60% of patients on the portal it would be really good", Ball said. "It's all about convenience for the patient and reducing DNA [did not attend] rates.
"Every time we get a missed appointment it costs the hospital about £160 but DNA rates have dropped about 4-5% which is big money saved."
The new system allows patients to confirm, cancel or re-book their appointment with one click.
Once confirmed, the appointment can be added directly to the patient's digital calendar which helps reduce the risk of forgetting their appointment. They can also save the letter to their phone or email it to print off.
Radiology and inpatients are next on the list for deployment, with full rollout of digital appointment letters set to be completed within the year.
"Sending a digital letter is up to 80% cheaper than the post equivalent and delivery is trackable", points out Kenny Bloxham, commercial director at Healthcare Communications, the firm supplying the system at Barnsley and also patient communication software to more than 100 other trusts.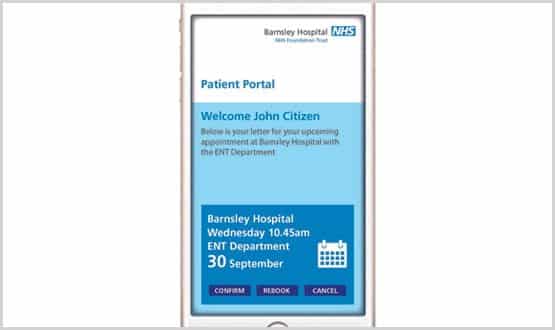 In recent years, many organisations have explored the use of technology to reduce DNAs and improve communication with patients.
Last year, Digital Health News reported on the introduction of a new digital booking system at Guy's and St Thomas' NHS Foundation Trust, which was expected to save the organisation the equivalent of £3.4 million a year.
The London trust is partnering with DrDoctor, who also introduced an SMS-based system at Heatherwood and Wexham Park Hospitals NHS Trust, enabling patients and receive and respond to appointment reminders via text.