This year's annual Consumer Electronics Show in Las Vegas showcased a bewildering variety of consumer tech, including the latest raft of health apps and technologies that could soon be hitting the market. 
In our CES round-up the Digital Health News team picks out some of the most eye-catching new health developments.
Samsung widens its presence in the health technology sector
Samsung revealed a number of new creative projects linked to healthcare from its C-Lab programme.
This included GoBreath, a solution aimed at those who suffer from lung damage following a trauma, surgery or anesthesia.
The South Korean company has now designed a digital spirometer that can connect to a smartphone through a Bluetooth connection.
Users breath into the spirometer the normal way but they can see on their smartphone screen how well they are doing by following a dot running along a graph.
GoBreath also teaches patients breathing exercises and allows them to monitor their recovery.
The technology also allows doctors to track their patient's recovery and send reminders to practice breathing via an accompanying web and cloud service.
Another piece of Samsung technology on show was the Relúmĭno smart glasses, which are designed to help people with visual impairments see more clearly when they're reading or looking at an object.
The glasses work together with a smartphone. Images are projected through a camera on the glasses and then processed by the phone. These images are then projected into the glasses, making it easier for the wearer to see objects.
App uses salvia to recommend what people should eat
UK-based start-up DNA Nudge was at CES to present its jaw-dropping technology, which uses genetic makeup to help guide users on what they can and should be eating.
The technology uses DNA from saliva to provide personalised dietary advice and shows what food groups a user is 'sensitive' to.
Users can scan barcodes of food products to compare which ones are best for them.
Interesting innovation from CES 2018: DNA Nudge App uses DNA to tell you what to eat via @BBCNews @YouTube https://t.co/0ex2guDoaH #digitalhealth #eHealth #NORD – interesting application of #nudge principles @makkifadi

— Marco Bardus (@marcobardus) January 9, 2018
Healbe connects consumers to health coaches 
California-based Healbe, meanwhile, revealed plans to connect wearers of its latest fitness-tracking wearable to health coaches.
GoBe 2 boasts the lofty claim of being able to automatically track a wearer's calorie intake. It claims to achieve this by detecting changes to the volume of cells in the bloodstream associated with eating, whereby cells absorb glucose and release water.
The device also boasts more typical tracking capabilities, such as heart rate and sleep quality. Healbe says it plans to launch an online portal in early 2018 that will allow users to share fitness data with nutritionists and "wellness coaches."
Olea Sensor Networks displays wireless and lightweight vital sign monitoring technology
Olea Sensor Networks displayed the OSN Quadcorder with HeartSignature, a prototype system for contactless and remote vital sign monitoring.
The system includes a wireless, contactless device, able to collect and process heart rate, respiration rate and heart rate data.
The lightweight technology can be slipped into a shirt pocket or worn on a lanyard.
Prevent Biometrics puts its money where its mouth is

Cleveland Clinic spin-out Prevent Biometrics debuted a smart mouthguard designed to detect concussion in athletes.
When worn by sports players, the sensor-laden Impact Monitor Mouthguard can detect whether the wearer has been involved in an impact and alerts sideline staff if they require assessment for a possible concussion.
It does this by analysing linear and rotational acceleration, impact location and direction, and then sending alerts to a mobile app if the impacts exceeds a pre-set safety threshold.
The mouthpiece has been designed to reduce the incidence of undetected and untreated concussions, and thus improving player safety in high-impact sports.
Data gathered from the mouthpiece is made available to concussion researchers.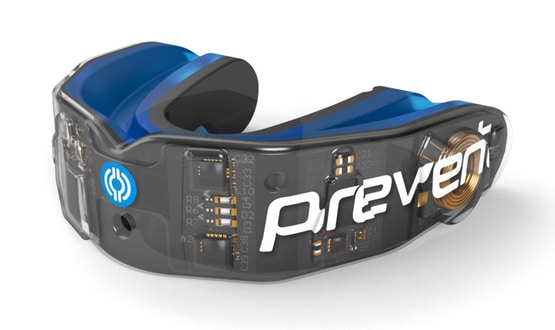 Nokia gets into bed with sleep-tracking tech
Sleep tech again appeared in abundance at CES 2018.  Nokia made a concerted effort to get into consumers' bedrooms with Nokia Sleep, an internet-connected pad that slips under your mattress and promises to deliver all manner of insight into your nighttime habits.
Sensors in the pad track movement in order to analyse sleep patterns and inform users about the quality of Zs they're getting, and how to improve it.
Say hello to our latest innovation announced at #CES2018, Nokia Sleep 😴, the advanced sensor that features in-depth sleep cycle analysis, plus snore detection and heart rate tracking. With the Nokia Sleep, you'll be a #TeamSleep all-star: https://t.co/yraVD00zPj #KnowYourself pic.twitter.com/RKT51FrBWi

— Nokia Health (@NokiaHealth) January 9, 2018
Nokia Sleep is compatible with the If This Then That (IFTTT) service, a web service that allows users to chain together functions from various IoT devices. For example, users can programme Nokia Sleep to integrate with smart home functions to automatically control things like lights and thermostats as they wake up or prepare for bed.
Genomics and the launch of "Pepper", a next-generation life assistant to help caregivers collect health data in hospitals, rehab centres and retirement homes were both big features of 2017's CES.