NHS organisations often struggle to cope with large electronic medical record projects. Nashville based implementation specialist CereCore is here to help, the firm's president and CEO Curtis Watkins tells Jon Hoeksma
The NHS has embarked on an ambitious programme to bring all hospitals up to a base level of digitisation. To get every hospital to a digital foundation with a rich electronic medical record will require a significant expansion of implementation capacity and know-how.
One company new to the NHS that aims to help provide this additional capacity, people and know-how is US technology services firm CereCore, new sponsor of Digital Health Networks.
CereCore specialises in EMR implementations in the US, with a growing international presence in Ireland, South Africa, Australia and now in the UK. The company has extensive expertise working with all the major US EMR vendors, including Epic and Cerner; its deepest experience has been with MEDITECH.
A trusted partner
Speaking from CereCore's Nashville HQ, Curtis Watkins, president and CEO, describes the company's ethos: "We talk about ourselves as the trusted connection between technology and care givers. It's always helpful to have a trusted partner at your side.
"Much of my career was working in a healthcare provider setting, and many of the team also started as health IT professionals or clinicians," Watkins adds. "We all come at this as healthcare professionals first, and really understand healthcare operations and how things run.
"The real difference is that we've been in the seats of our customers," says Watkins. "As a result, we genuinely see this as a calling rather than just a business."
CereCore started life as the enterprise implementation department of the HCA Healthcare, a 180-hospital system and one of the largest providers in the US, before being spun out as a wholly owned subsidiary in 2008.
The company, which has worked with over 400 hospitals and 3,000 healthcare facilities in the US, works with the largest US hospital system as well as a range of medium and smaller sized organisations.
Focus on innovation
Watkins describes how CereCore works today: "We have traditionally been moving upstream into larger healthcare systems, who want to focus their attention on innovation, and are sourcing some of the blocking and tackling to an organisation like us."
He adds that most healthcare organisations can only staff for day-to-day IT support. "So, when they come to a large project, particularly an EMR implementation, we can help them bring in the skills and resources to invest in that."
Watkins says the current NHS levelling up and digital foundations programmes have some strong similarities to the US Meaningful Use initiative that ran 2011-16 and offered financial incentives to help organisations implement EMRs.
"That process wasn't quite as rapid as it looked from the outside. It probably took 6-8 years and had the same sort of split between have and have nots while seeking to boot-strap everyone to a baseline EMR capability."
Different levels of support
He adds that every organisation starts from a different place, with different capabilities and financial resources available and so need different levels of help. "We meet the customers where they need us to meet them."
Increasingly, the focus for CereCore's customers is to drive benefits from enterprise wide EMR systems after they have been implemented.
"Once health providers have these systems in place it became a transition," says Watkins. "There is first an optimisation period that is about improving clinical workflows and optimisation. In the US there are still a good number of healthcare systems who are still in this mode."
For the most advanced organisations, who have successfully implemented an EMR and then optimised clinical workflows and processes, the prize is to then focus on driving quality and value.
Fine-tune complex systems
"For the higher performing healthcare systems, they have now moved into a mode where they can now benchmark on clinical quality and financial performance against themselves and their peers," says Watkins. And it is at this stage that the full benefits of an EMR begin to be realised.
The steps involved in driving improvements include creating data warehouses that allow analytics to enable improvements in the quality of patient care and outcomes, and the ability to have better clinical decision support.
He describes the approach as fine-tuning a complex healthcare system. "But to take a system and tune and optimise it really requires someone who has experience of doing this in different healthcare systems."
Watkins says the US is similar to the NHS, in having a mixed picture on digital maturity. "Even here in the US there are a lot of hospitals continuing to optimise and upgrade systems."
Although it is early days in the UK for CereCore, Watkins says the company's skills and experience mean it has a great opportunity to provide value.
Focus on integration
"A lot of folks are starting to move to EMRs but there is also still a lot of disjointed clinical use of systems. There is an entire eco-system around health that is not talking or cross-communicating," notes Watkins. "So, there is still a need to focus on integration and data inter-change across different care environments."
Another big opportunity, he stresses, comes from rationalising the heterogenous portfolio of systems that most organisations run. "Moving to a more integrated EMR that has a lot more functionality provides the opportunity to do a lot of application rationalisation, particularly where you have very disparate systems."
Although not easy, Watkins says application rationalisation is a key area for savings, and often central to an EMR business case. "This can provide an opportunity for cost savings in some of these areas. We have seen healthcare systems pull down maintenance and support costs on stand-alone departmental systems."
He adds that this also provides the opportunity to reduce technical and application debt from legacy systems.
"Organisations that have those types of disconnected systems have really created technical debt. And that's something that will bite you down the road. Something will happen, down time or data loss. You really don't want to let it get worse.
"With a fresh start you can eliminate some of the technical or application debt – and the same applies to the infrastructure in a lot of these hospitals. You really have to have a robust modern technical infrastructure as the foundation, such as good wi-fi."
Turning to how CereCore can help the NHS, Watkins says there are two main areas:
Implementation expertise
"CereCore have done over 300 EMR implementations here in the US and have really good expertise and methodology with the 3 major EPRs – MEDITECH, Epic and Cerner.
"We can help NHS organisations on implementation, refresh of infrastructure, and supporting merger and acquisition processes. We are ready and able to do all of that today."
He emphasises CereCore's particular expertise with MEDITECH. "I'm working with several clients who are in the process of implementing MEDITECH EPR in the NHS currently."
Watkins praises MEDITECH, who generally receive far less attention in the UK than rivals such as Epic, as having continued to develop their product. "Their product is very capable and functional, and I think they have a better cost model."
People and resources
CereCore will be bringing its US based people and resources to the table, in partnership with a growing UK team.
"We hear staffing shortages in certain areas of health IT is a reality in UK healthcare IT," says Watkins. "That's something we can help with.
"We have a footprint already in the UK, that we are growing, as well as a team of over 700 in the US and internationally we can draw on.
"This is just the start of our journey with the NHS," says the CereCore president. "The need is great, and the opportunity is there."
About Curtis Watkins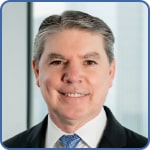 Curtis Watkins is president and chief executive officer of CereCore. He is responsible for the strategic implementation and support of information technology services, applications and processes for CereCore's clients. Before serving as president and CEO, he held the position of vice president and chief strategy officer for CereCore. Curtis has more than 20 years of IT experience, including IT strategic consulting, systems strategy development and leadership.
Prior to joining CereCore, Curtis served as the corporate vice president and deputy chief information officer (CIO) for Community Health Systems (CHS). Responsible for hospital clinical systems strategy and product development, he also led the organization's enterprise architecture and meaningful use program.
Earlier in his career, he served as CIO for St. David's Health System, as well as a program director with Hospital Corporation of America (HCA), leading one of the largest IT realignments in the company's history.
Curtis serves on the board of directors of the Nashville Technology Council. He earned his MBA from the University of Massachusetts and a bachelor's degree from Weber State University in Ogden, Utah.