New digital technologies can enable surgeons to 'virtually scrub-in' to operating rooms, share knowledge around the world and perform at their best, says Dr Nadine Hachach-Haram.
As a surgeon, I know how important it is to ensure patients get the outcome they deserve. Delivering positive outcomes requires proper training and a robust commitment to high patient safety standards. We cannot rest easy when people are dying unnecessarily around the world because they lack access to safe, affordable, and timely surgical care. The consequences of this health inequity are stark, with the Lancet Commission estimating 18 million patients will die every year as a result.
We can drive up surgical standards and save lives by innovating. Variation in safety, affordability and accessibility has been exacerbated by the coronavirus pandemic, which made it harder for surgeons to share knowledge with their peers. Traditionally, surgical training has tended to follow a hands-on style known as, 'see one, do one, teach one'. It's how many of us, including myself, were trained.
Now is the time to use the technologies already familiar and available to us to build the operating room of the future: artificial intelligence, robotics, speech recognition, smart data-sharing devices, AR, VR, and so much more.
By harnessing new digital technologies, we can enable surgeons to share knowledge around the world – from London to Lebanon – and perform at their best. We can start to make the operating room a digital space, easily connected without borders. This is the ethos on which I founded the Proximie platform. It was built to allow experts to virtually scrub-in to operating rooms and cath labs around the world, to support, coach and mentor each other, and to really look at the continuum of expertise throughout a surgeon's career.
Remote, immersive surgery
Previously, I had been exposed to early-stage telecommunications platforms, but all of them were anchored to one moment in time. One meeting, one call, one conference, but then it's gone. You can't do remote surgery in 2D. It has to be more immersive than that.
Proximie is now being used in over 50 countries, capturing data from operating rooms and allowing surgeons to virtually support and connect with each other. For example, in the UK, trainee surgeons can record and share their surgeries for review from their peers – all via a mobile phone app.
The scope for Proximie has increased: through video and audio we can start to tag, label and code certain things within an operating room, be that instrumental usage, or down time, for example.
Fundamentally, we can push the boundaries of what is possible in operating rooms to uphold high patient safety standards, make procedures more consistent and efficient, and reduce surgical inequity across the globe.
By using this approach to train surgeons, we can provide extensive teaching and learning more efficiently and revolutionise the operating theatre.
Digital technologies such as AI mean the operating room of the future will be borderless, interconnected with the world's best clinicians. HealthTechs such as Proximie have the potential to propel the industry into this new era, where every operation in every hospital is recorded, analyzed, and learned from.
Healthcare cannot afford to keep looking in the rear-view mirror. Instead, we must focus on looking forward and embracing already-available technology such as AI – bringing us together in shaping a better, safer, and ultimately healthier world.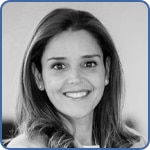 Dr Nadine Hachach-Haram is a surgeon and the founder and CEO of Proximie.