Clinicians are using their personal iPads to access patient records on Emis Web in a pilot scheme run by Informatics Merseyside.
News
Emis expects to win around two-thirds of GP practices using an iSoft clinical system before support for the products ends next March.
News
NHS Wales has started rolling out a centrally hosted IT service to its GPs, who have a choice of Emis Web or INPS' Vision 360.
News
Our GP columnist held a BBQ while the sun was out, but his guests took a gloomy view of GP IT.
Feature
The first exchange of clinical information between TPP's SystmOne and Emis Web is being piloted in London next month.
News
Sean Riddell stepped down as chief executive of EMIS Group at the end of last month. Rebecca Todd speaks to him about his 23 years in the GP IT industry.
Feature
Accident and emergency clinicians in Bristol are able to view the records of 500,000 patients, thanks to an information sharing agreement with 50 local practices using Emis Web.
News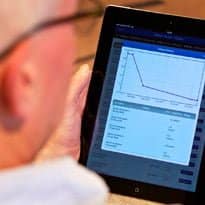 All GPs using EMIS Web can now access their clinical records on the go.
News
Our columnist is about to get Emis Web, but he's worried that because his district nurses are using Emis Community, his working life is going to get harder rather than easier.
Feature
An online assessment tool designed to identify people at risk of diabetes has been integrated into EMIS Web.
News