A new solution that allows NHS healthcare professionals to request and instantly view a summary of GP medical records with the patient's explicit permission is currently being piloted across a handful of Integrated Care Systems (ICSs).
accuRx's Record View, which is currently in use across four ICSs, works by healthcare professionals logging in to the company's platform, searching for their patient via its integration with the Personal  Demographics Service (PDS),  and then requesting permission from the patient to view a summary of their GP medical record. 
Once requested, the patient receives a single-use 6-digit code in an SMS to the phone number listed on their GP record. The patient can then choose to share the code with the healthcare professional.
The healthcare professional will need to enter the code given by their patient in order to view the record summary. The summary remains accessible for 24 hours, after which the permission would need to be sought from the patient again and a new code generated and shared.
New way of working
One clinician who has been using the technology is Mark Loveder, who is a clinical psychologist at University Hospitals Coventry and Warwickshire NHS Trust, working in the weight management service and the bariatric surgery service. For Loveder, the introduction of Record View has been a useful tool for him as the trust moved towards a blended mix of face-to-face and virtual working following the Covid-19 pandemic. 
"As we are a regional service, our patients come from a wide area so it could much more convenient for them to connect remotely if they can," he told Digital Health News.
"But if we are having virtual contact, it means we are not taking a weight recording quite as often, so the functionality of Record View to provide, with a patient's consent, a summary of the care information from the GP records is great because it might be the case that the patient has been into their GP surgery and had their weight recording taken there and is visible on their GP record."
Prior to Record View, Loveder said he would have needed to get the information from the GP practice by calling the surgery himself, putting in a request and then waiting to hear back. 
"All of those methods end up taking up more time," Loveder said.
"Not only does it [Record View] improve the efficiency of a patient's progress through our service, it also reduces the waste in the healthcare system of people needing to speak to each other and taking time out for that.
"That time saved can release time for us to provide care to that patient or to provide care to other patients that we have on our caseload."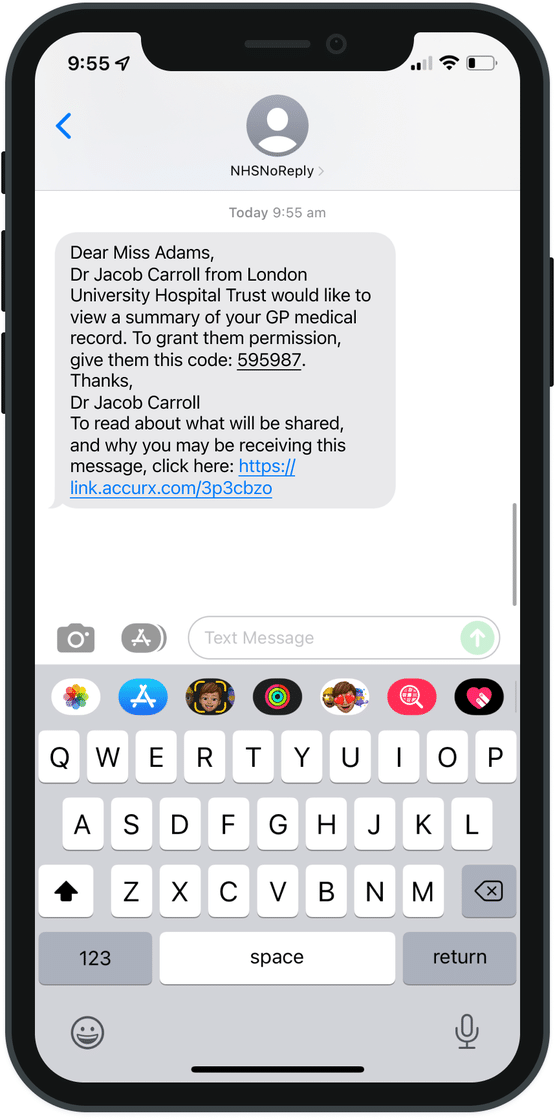 Going back and forth
Currently, accuRx is gathering feedback from its pilot sites before it rolls the solution out nationally, though the company says this will be done "over the next few months".
Satya Raghuvanshi, who is senior clinical lead at the company, said the idea for Record View came from speaking to secondary care users where the subject of accessing primary care records was raised as an issue. 
"What was happening was they [secondary care users] were having to go back and forth between GP practices asking for information, spend time waiting for an email to come across with the information that they needed to make clinical decisions about a patient's care, and they didn't have an easy way of accessing that information," she added.
"So, we know that there are existing barriers to accessing patient information and that some of those barriers can be incredibly difficult to navigate, so this is one way of joining up that experience and making sure that anybody who is involved in a patient's care, or is part of the team that is providing care for that patient, can access information easily."
From the patient perspective, Raghuvanshi believes Record View creates a feeling of a "much more connected NHS".
accuRx chose a different type of permission model for Record View by putting patient permission at the heart of the product, which, according to its co-founder Jacob Haddad, was developed in accordance with the Caldicott principles.
"Our approach is to give patients more control over their medical records, while making it much easier for healthcare professionals to access their patients' medical records from a web browser, by using informed patient consent. 
"Record sharing is fundamental to delivering high-quality care. The Benefit of Record View is, it doesn't matter if the patient is in a different area to their GP – clinicians can care for patients from a different area because the patient can decide to share their record."