The sharing of knowledge, via a process of 'blueprinting', was frequently emphasised as a pre-requisite to becoming a GDE. In advance of a Digital Health webinar on the subject, and a workshop at Summer Schools, Claire Read explores how that process is developing, what's next, and discovers why the group leading it is so keen to get feedback.
Feature
Organisations should appoint a board lead on data security and consider suspending IT access for any executive who fails to complete annual cybersecurity training, NHS England's chief information officer has suggested.
Cyber Security
2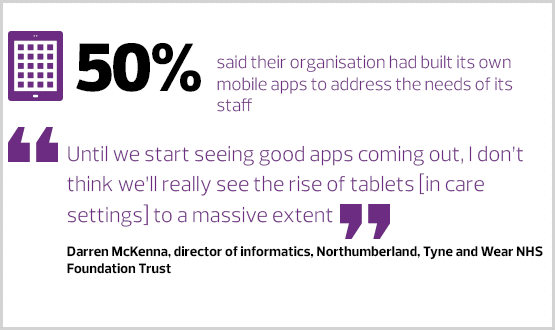 Against a backdrop of limited clinical apps from suppliers and constrained funding, NHS organisations are simply developing their own, research published by Digital Health Intelligence suggests.
Clinical Software
Claire Read reports on newly published Digital Health Intelligence research on Mobile Working in the NHS, which explores why there hasn't been a fuller uptake of mobile technology in the health sector, and how to overcome those barriers.
Feature
1
Technology firms should consider shadowing nurses to fully understand their workflows and inform the creation of solutions that work for them, a new report has suggested.
Digital Patient
14
Health Education England is launching an online workshop to gather views on digital readiness.
News
Time spent on basic administration of child health records in London has halved following the introduction of a new digital setup, one of the project's leaders has reported at EHI Live 2017.
Shared Records
Cambridge University Hospitals NHS Foundation Trust scooped two of the top prizes at the 2017 EHI Awards.
News
Bradford Teaching Hospitals NHS Foundation Trust and Calderdale and Huddersfield NHS Foundation Trust are now live with a new joint electronic patient record.
Clinical Software
3
This month's Movers and Shakers round-up brings news of healthcare IT appointments from across the Irish sea as well as across England. We also report on the former telecommunications and internet firm chief executive who is now the government's preferred candidate for chairperson of NHS Improvement.

CCIO Network