It was named by 78% of those questioned, according to the findings of the 2019 NHS IT Leadership Survey which is available to Intelligence subsribers.
Interoperability
2
We would like to apologise to readers and customers after our site had to be taken down for much of yesterday after a brute force hack.
News
Interoperability has become the highest single priority issue for NHS IT Leaders, according to the findings of the 2018 NHS IT Leadership Survey.
Interoperability
10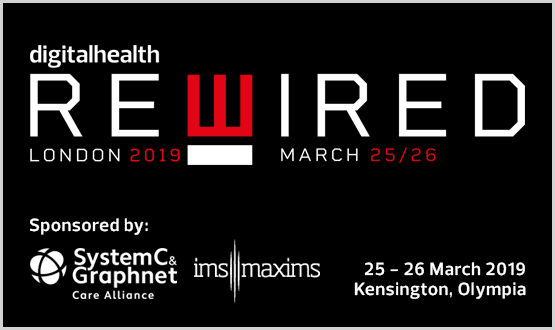 Anglo-Irish clinical technology specialist IMS MAXIMS has been named as the second launch sponsor for the new Digital Health Rewired show. IMS Maxims has joined as sponsors of the Digital Health Rewired Leadership Summit on day one and Clinical Software zone of the Rewired Expo on day two. Digital Health Rewired is the new two-day […]
News
Voting for the Digital Health Awards 2018 – the only awards is which the winners are decided by their peers – is now open, with a range of impressive nominees across all categories.
News
The 'Market Forecast, NHS IT spend in the UK, 2016-22' report, which was published on Wednesday, also reveals key elements of central funding, such as the £4.2 billion investment announced in February 2016, will be reprioritised away from paperless initiatives into areas such as cybersecurity and infrastructure.
News
Research from Digital Health Intelligence has found that only one percent of acute NHS trusts have fully migrated to Windows 10, despite the fact that support for Windows 7 expires in two years' time.
Infrastructure
1
New data from Digital Health Intelligence reveals 55% of acute trusts 47% of mental health trusts have an implementation plan prepared for GDPR.
News
4
28% of acute NHS trusts and 16% of mental health trusts have not undertaken penetrative testing for cyber security in the last twelve months, according to new research from Digital Health Intelligence.
Cyber Security
1