Simon Bolton has said it is the job of him and his colleagues to ensure that the upcoming merger of NHS Digital, NHSX, Health Education England (HEE) and Innovation, Research, and Life Sciences (IRLS) into NHS England and Improvement is done "with as little impact as possible".
Speaking to Digital Health News for the first time since the organisational changes were revealed in 2021, the interim CEO of NHS Digital addressed concerns about the upcoming merger including what impact it could have on digital progress across the NHS and what it could mean for staff.
"In terms of putting technology on the backburner I can absolutely assure you that is not going to be the case, we are under intense pressure rightly so from DHSC [Department of Health and Social Care] and the Secretary of State to start planning for delivering real value around technology [in the new structure] and that pressure is not going to go away, so I can definitely say that it is not going to be put on the backburner," he said.
Bolton, who has taken on the additional role as interim CIO at NHS England and Improvement when the changes come into force, also added that there were a couple of priorities he is working on in order to ensure that technology remains at the forefront.
He added: "I think there is a real risk that if we aren't very careful then we could get distracted by merging three different legal entities and doing all the stuff that surrounds that such as people, organisation, finance and legal structures.
"But we can't afford to get distracted because we have got a more important job to do.
"So, I think it's the job of me and my colleagues across NHS England, NHS Digital and HEE to ensure that we do that organisational change with as little impact as possible to the real work counts, which is about delivering a value to the NHS system and to patients and citizens."
Bolton, who has previously had roles at NHS Test and Trace and Jaguar Land Rover, is hesitant to start talking about NHS Digital's legacy as he reaffirms the fact that the role of NHS Digital will still be there.
"The history [of NHS Digital] is important and we won't forget that as we go through the merger with NHS England," he told Digital Health News.
"I am not sure I would use the word legacy because we will still be around even though we might be called something different but we're still going to have real intent around digital capability for the NHS and we will be absolutely laser-focused on making sure that we treat data with appropriate care and attention, respect privacy and keep it secure."
The future technology landscape
Bolton, who only joined NHS Digital in June 2021, also thanked colleagues at NHSX after the organisation was moved over to the newly formed Transformation Directorate.
"I would just like to pay tribute to colleagues at NHSX, it's always difficult when you go through a change like that, when the organisation that you are part of gets disbanded and there are a lot of people in NHSX who feel, rightly, really proud of what they have delivered and I would like to publicly thank them for what they have done," he said.
The NHSX brand has also been retired and Bolton hinted NHS Digital will go through the same process next year.
"Obviously NHS Digital is going to go through a similar process, probably next year, where we close down the organisation and merge formally with NHS England and that's going to be an appropriate time to just reflect on what we have been able to achieve and celebrate those successes and looking forward to delivering even more and better stuff," he added.
Overall, Bolton is hopeful that the merger will be a positive step for digital transformation in healthcare.
"My hope is that by creating a single organisation at the centre we can start to have a really sensible conversation about our future technology landscape and do that in a way that is really cohesive and joined up at the centre," he said.
GPDPR update
When asked about his upcoming priorities, Bolton lists three; improving digital healthcare for citizens, making sure providers have the right and appropriate technology (including EPRs in all acute trusts) and making sure data and information can be used for innovation and research.
One programme which is linked to the last priority is GP Data for Planning and Research (GPDPR) – a new primary care data collection service which would see planners and researchers being given more secure access to a more comprehensive set of pseudonymised patient information. Originally planned to go live from 1 July 2021, concerns were raised about the programme and eventually led to the implementation date being moved to September. This date was later scrapped and instead data collection will now only begin once certain criteria have been met.
"I think what we learnt through the process that we went through last year was that there was a lot of support for the fact that we should be able to do it, but concern that we should be able to do it in a way that absolutely protects privacy and I am completely signed up for that," Bolton said.
"We definitely need to be completely open about what we are doing and demonstrate that we are doing all we need to do to protect people's information and data."
Next steps for the programme include NHS Digital expanding its internal Trusted Research Environment (TRE) which would mean external organisations would be able to come into this environment and do research "without any opportunity to get hold of personally identifiable information".
An update on the engagement work that has been carried by NHS Digital was recently published and shows what the organisation has been up to since the delay was announced.
Bolton added: "We are committed to ensuring that we will get support from BMA [British Medical Association], RCGP [Royal College of GPs], National Data Guardian and others that they are satisfied with the arrangements that we are taking before we press the button on going live with this again.
"I think we are making progress, it's been slower than maybe I would have liked but honestly we have had quite a few other things to deal with as well."
Getting back to in-person
Next month, Bolton will give a keynote address at Digital Health Rewired. The event, which returns to in-person for 2022, aims to bring the digital health community together to discuss a range of topics including AI, integrated care and smart health.
"I am really positive about getting back to in person again, clearly people need to be sensible and safe but the opportunity to get back into a room and meet people and have high value, two-way dialogue is really important," Bolton said.
"One of the things that I get from these sessions is yes the ability to share my thoughts and ideas, but really importantly those kind of side conversations, that two-way dialogue is massively important.
"I am really looking forward to being able to come along and share my thoughts on what is happening further down the road with the organisational change, but also listen to the stories that other people have got and the experiences they are having, where their pain points are and where we can help.
"We all have the same purpose at heart, one of the biggest challenges is how do we work together in a way that really makes a big difference.
"It's very easy to think of ourselves in our own little tribe without thinking about the broader picture and how do we work together to try to deliver against the purpose that we all feel so passionately about."
---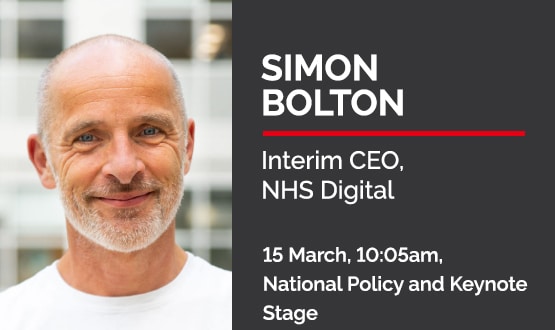 Taking place on March 15-16 at the Business Design Centre in London, Digital Health Rewired 2022 is a conference and exhibition which brings together all parts of the digital health community to celebrate the best of digital, data and innovation in health and care.
All the conference sessions will be CPD accredited.
You can register here to secure your place at Rewired 2022.