An NHS consultant nurse who is part of a team using an app which helps to detect early signs of kidney failure has branded it 'phenomenal'.
Sarah Stanley, who leads the patients at risk and resuscitation team at the Royal Free Hospital in north London, is one of 30 using Google DeepMind' Health's Stream app.
The British machine learning company's technology sends a range of test result data straight to staff's mobile phones and alerts them to which patients could be in danger of developing acute kidney infection (AKI).
This means doctors and nurses can respond in minutes rather than hours or days.
Stanley told Digital Health News that this saved her team a 'huge amount of time' and has made a 'phenomenal' difference to day-to-day actives.
"Prior to Streams, we did have access to all the same information but you would have to find a computer and then log onto the system to see the results," she said.
"This would take a long time but now Streams makes everything more flexible and means alerts are sent straight to our mobile phones without the need to physically check results ourselves.
"Everything is in one place."
Streams, which was introduced to the hospital in January, also provides staff with the ability to communicate with each other as the alerts are sent to everyone and they can all let each other know whether they have picked it up or not.
Stanley said this was an unintended benefit as it removed the need for staff to page each other and then wait to see who responds.
Another unexpected benefit Stanley said was the fact patients could be shown their results on a graph which boosts staff's interaction with them.
"Before Streams we could still show patients their results but it would be in numerical format which might have been harder to understand," Stanley said.
"Staff would also have to find a computer and then wheel it in to show the patients, but now we just show them on our mobile phones so it again saves time."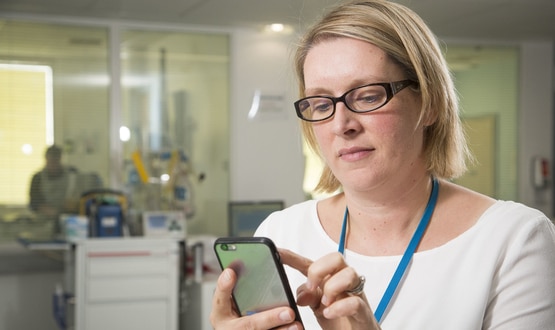 The Royal Free London Hospital NHS Foundation Trust signed a five-year deal with DeepMind  in November 2016 and Stanley said that the trust is hoping to roll out Streams at Barnet Hospital in mid-2018.
She also praised the usability of the app and said it took minutes for staff to learn how to use it.
Dr Dominic King, clinical lead at DeepMind Health, said the company had worked 'closely' with clinicians at Royal Free so it could understand how the technology could fit in their day-to-day lives.
"We wanted to understand, in as much detail as possible, what information they needed to have at their fingertips, and how we could present it so that it was most useful to them in an urgent care situation," King said.
"The result is Streams, our secure mobile app that has been built for front-line doctors and nurses.
"It draws information from a variety of different sources and puts it into the palm of clinicians' hands."
King, who has previously worked as an NHS doctor, also told Digital Health News that a formal evaluation of Streams would be published next year and the early signs were 'encouraging'.
Royal Free's relationship with DeepMind has been controversial in the past.
The information commissioners office (ICO) ruled in July that the trust failed to comply with the Data Protection Act when it provided details on 1.6m patients to DeepMind.
The ICO investigation found several shortcomings in how the data was handled, including that patients were not adequately informed that their data would be used as part of the test.