Special Report: Digital pathology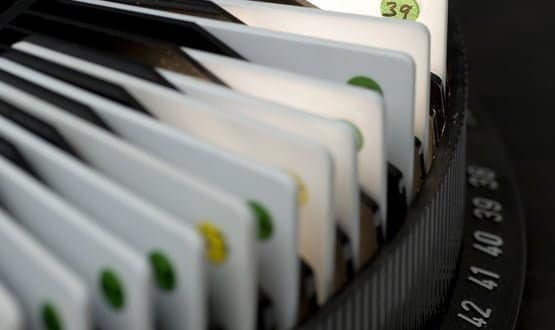 Slide show
Digital pathology is being billed as the technology to do for pathology what digital imaging did for radiology. But does the business case stack up? And what are the technical benefits? Daloni Carlisle reports.
Routine pathology these days is highly automated, with giant robotic machines working 24/7 to process an endless line of samples.
But some areas of pathology remain largely untouched by technology and automation – including histopathology where most doctors still need a glass slide and a microscope. Could this be about to change?
Digital pathology – replacing the glass slide with a digital image that can be viewed on a screen anywhere, anytime – has been developing slowly but surely and is now being used in practice. It may be that digital pathology will soon do for histopathology what digital imaging did for radiology.
Adding a step
Tim Wing is senior sales executive for digital pathology for GE Healthcare IT. As one might expect, he's bullish about the prospects.
"In sales, you almost expect the dominoes to fall rather quicker than they do in practice; but the truth is that there are now several NHS organisations in the process of switching or already using digital techniques on a daily basis in jobbing laboratory processes. There is no technical or clinical or medical reason for not doing it anymore."
University Hospitals of Coventry and Warwickshire, Path Links in Lincolnshire, Imperial College Healthcare, Oxford University Hospitals, Lab Co – all are sites using or exploring digital pathology.
Hugh Cormican, chief executive of Cirdan, a Belfast-based provider of digital pathology software and cameras, is similarly upbeat. "Digital pathology – or the more holistic pathology imaging – has the potential to do much more for pathology than PACS did for radiology," he says.
"Imaging requirements exist in pathology beyond just digitising glass slides. It can be used for gross imaging, blood films, microbiology and cytology. Although it is still immature, the breakthrough predicted for pathology imaging is finally here and the adoption is set to rapidly rise in the coming years."
Others are more cautious. Mike Gandy, translational research manager at Health Services Laboratories in London – the joint venture partnership between University College London Hospitals, the Royal Free and The Doctors Laboratory – is among them.
"It's generally driven by a particular need, for example where a pathologist covers several sites and there are cost and time implications from travelling," says Gandy.
He notes that digital pathology has had some traction in Scandinavian countries, where the geography and the need to get images to remote consultants have driven developments. "But where the pathologists are co-located in the labs producing specimens," he argues, "the model does not work."
Gandy points out that the arrival of picture archiving and communications systems removed a step from radiology – developing the wet film. Digital pathology adds a step. You still need a glass slide and that has to be transformed into a digital image, with all the associated cost and quality control work involved.
"Doctors are over the hurdle of 'can I leave the microscope behind?' But they do not see the lab work and, for us, the business model will not work until we have a single machine that makes the slides and the images."
He reckons such a development may be two to four years away but, in the meantime, he says: "I have yet to see a full blown business model for a site where pathologists are co-located with laboratories that makes financial sense."
Changing the game
Convincing as this sounds, Wing and Cormican argue it is only part of the story. The other factors are demand from clinicians for more intelligent systems and the inexorable demand for more and higher quality pathology services from a dwindling workforce.
Pathology, Wing says, is facing a "perfect storm". Rates of cancer diagnosis are rising with the ageing population, while there is a demand for ever more accurate assessments of tumour samples, driven by the rise of personalised medicine in cancer care. Images need to be available in multi-disciplinary team meetings.
Meanwhile, the baby boomer generation of doctors who came into pathology are about to retire. "And because histopathology has not kept up with the digital revolution, pathology is now finding it hard to recruit trainees," says Wing.
He tells an anecdote about a careers fair set up to help young doctors choose their specialty and watching the fresh-faced juniors pass by the pathology stand. "When I got my demonstration kit out and started to show what digital pathology can do, we were surrounded," he says.
That's because digital pathology is more than simply producing a digital version of a glass slide. Omnyx is a joint venture between GE Healthcare and University of Pittsburgh Medical Centre that has developed the current GE offering.
It has developed algorithms and software for analysing slides that is not only more objective but also more accurate and quicker than microscopy, Wing claims. "We are showing dramatic improvements in productivity are possible," he says.
Cormican concurs. "The core of pathology is imaging but few pathologists had the tools to take images so they concentrated on describing in words what they saw," he says. "As they say a picture can tell a thousand words and by recording the images huge advances in productivity can be achieved.
"When you have images they can be easily shared, so training, collaboration and quality assurance are all made easier. Already computer aided diagnosis software is starting to appear and undoubtedly will be widely adopted by clinicians.
"When you have the images alongside the pathology diagnosis the opportunities for big data and predictive analytics are enormous. Within the next seven years I believe pathology imaging will revolutionise diagnosis and preventative medicine."
Finding new working patterns
This is already happening to some degree. Wing points out that UK pathologists are already forming networks that allow for more specialisation and that will depend on digital pathology. For example, hospitals in the north east are developing the concept of an academy of pathologists where every pathologist specialises and accepts all cases in their specialism via digital technology.
Elsewhere, pathologists are developing new workflow models in which digital images are queued in a central system and remote pathologists simply take the next job off the list.
It is for all these reasons that Nick Chomyn, general manager of Path Links, is excited about testing the limits of digital pathology. The day he spoke to Digital Health Intelligence he had just signed for the arrival of new scanners and was sitting among the boxes, waiting to unpack them.
"We are in the foothills of this," he says. "PACS delivered massive improvements and benefits to radiology – and we would expect the same in digital pathology. We see investment in digital pathology as a future proofing strategy."
He expects it will take at least until the end of this calendar year to roll out digital pathology and two years before it becomes routine. He will be taking an incremental approach, going with high volume, low complexity work first and then low volume, high complexity and work forward from there." He hopes an early win will be digitising MDT meetings.
The IT bit
From an IT perspective, Wing says the GE Healthcare Omnyx digital pathology system has some distinct advantages, including a compression algorithm that reduces image file size to around 200MB of data so a mid-sized teaching hospital will require storage of around 30TB a year to manage digital pathology.
The system uses HL7 messaging so can easily integrate with Laboratory Information Management Systems from Clinisys and iSoft. "We have had IT people walk in thinking this will be challenging or terrifying and it is neither. It's actually a bit straightforward and boring," he says.
On the viewing side, Omnyx has developed real time streaming software that enables remote viewers to download only the element of the image they want to see rather than the whole slide. He likens it to Google Earth technology. "In terms of screens, we genuinely do use HD screens that you can pick up at PC World," adds Wing.
Cirdan, meanwhile, is about to launch the new PathLite Compact, which the company describes as "a unique mobile gross- imaging camera that is ideal for laboratories with limited space."
The start of things to come
So as with every development there are the leaders testing the technology, the first adopters looking at how they can use it in practice and the sceptics. But even the sceptics recognise that digital pathology's moment will come. The dominoes are starting to tumble.