Population Health Management – Advisory Series, July 2019
Contents focus
Get a targeted view by selecting your chosen topic from the Population Health Management Advisory list below:
By Jennifer Trueland – Digital Health
Population health management is seen as a tool which could help the cash-strapped NHS. Jennifer Trueland reports that while uptake remains elusive, there are still green shoots of change emerging.
Twentieth century public health pioneers who wanted to know what was really going on in their local communities took to the streets and knocked on people's doors – wearing out a lot of shoe leather in the process; today, however, they can let their fingers do the walking.
Population health management – that is, bringing together data from an ever-growing range of health and social care-related sources, and using it to determine the needs of a community – is the solution favoured by those following in the metaphorical footsteps of the likes of the late Julian Tudor Hart and other visionaries.
Advocates say it's great for patients and for health services: identifying those at risk of ill health, and intervening at an early stage, can improve outcomes or even prevent illness in the first place – surely a boon for the cash-strapped NHS.
But although some version of the principles behind this, such as a greater focus on prevention, can be found in almost every recent strategy published by the four UK health departments, wholesale uptake of population health management remains elusive.
Green shoots of change
There are, however, some green shoots: across the UK there are promising signs that population health management is beginning to have an impact.
According to Dr Sakthi Karunanithi, this is the right way to go. He is director of public health and wellbeing at Lancashire County Council, and the senior responsible officer for population health for Healthier Lancashire and South Cumbria, which was chosen last year by NHS England as an "accelerator site" for population health management. Healthier Lancashire and South Cumbria was awarded £471,000 to take forward the 20-week initiative, and Karunanithi for one believes its time is coming.
"Technology has become so popular in society for so many things such as banking and shopping, but we still don't really use it for health and wellbeing in communities," he says.
"Now that so many people have access to a smart phone, there's a real opportunity to address the health divide between the advantaged and the disadvantaged, and I want us to take that opportunity.
We can potentially save a lot of time for practitioners and the public – it empowers people and helps keep them healthy and well, and also acts as a catalyst to create a more digital economy."
Healthier Lancashire and South Cumbria spent the 20 weeks focusing on supporting clinicians working in neighbourhoods, Karunanithi explains.
"That involved lots of different people working together to understand what's going on, using linked data from a number of sources. The idea was to learn how to provide more personalised care in neighbourhoods."
Data was brought together from GP, hospital and mental health records, as well as local authorities, which led to some exciting ideas and discoveries. Karunanithi points to one initiative in Chorley aimed at identifying people who were frail, and who frequently attended GP appointments but with needs that were social rather than strictly medical. Looking at data on who had requested assisted bin collection helped with early identification of people who might fit this cohort, allowing support to be offered.
"It's amazing to see the magic that happens when you bring people together," says Karunanithi, adding that once identified, these people can be offered support to build their confidence and resilience, and can be linked in with community groups, volunteers and other services to help meet their social needs.
From birth to grave
As a GP and a local councillor, Joe McManners is well placed to see the benefits of bringing together information traditionally held by different parts of the health and care system.
Until last year he was also clinical chair of Oxfordshire CCG, which helped give him a real overview of the needs of a local population, and he has worked with NHS England on integrated care systems. But it is perhaps his role as a practising GP where he has the most hands-on sense of how population health management could revolutionise life for patients, and, indeed, for those working in health and social care.
In a blog for NHS England published in December 2018, he wrote about how generations of the same family can be blighted by the same health problems – and how getting a better understanding of the factors behind it, and what can be done about it, can help break that cycle.
In a way, he tells Digital Health, traditional general practice always was about population health management.
"It's become a bit of a buzz term at the moment, but it's based on longer-standing principles,2 McManners says.
"Working as a GP, you're working with a local community and with families over a long period of time, from birth to grave.
That's the traditional view of primary care, and we've lost that a bit, but [population health management] is about looking at how we can help the health of a local community, and trying to make that more systematic or rigorous."
Getting the deeper picture of pathways
At a national level, Scotland is trying to do just that. Intelligent application of data is at the heart of plans for Scotland's new public health agency, which launches next year.
Public Health Scotland is a collaboration between the Scottish Government and the Convention of Scottish Local Authorities (COSLA), so should be an important driver of Scotland's health and social care integration agenda.
Scott Heald, associate director and head of profession for statistics at Public Health and Intelligence, part of NHS National Services Scotland, says it's an exciting time.
"In Scotland we've got lots of good data, but we don't always use it to the best effect. There's a real opportunity here to make a difference to people's lives," Heald says.
Local authorities have a wealth of information about the citizens they serve, including who is in receipt of self-directed support, use of community alarms and telecare, he adds.
Bringing this together with health services data should create a deeper picture of "typical" pathways of care, such as how people end up in hospital and what happens when they get home.
"These are key aspects of local planning," says Heald, adding that organisations will also be able to see each other's data so will be able to judge how they compare and see if there are lessons to share.
Work is already underway to embed data in managing the health of Scotland's populations. One example is the Local Information Support Team (LIST), which has been working with local integration authorities since April 2015. This essentially involves analysts working in local areas as part of multi-disciplinary teams that make decisions on how to commission and deliver services that both meet the needs of local people, and enable early intervention to address health problems.
"It means analysts are embedded in what we do, working with local authorities and integration boards and GP clusters," adds Heald.
He points to a report published in September last year showing where LIST analysts are already making a difference in their local areas. One initiative involved working with a health and social care partnership to co-produce a health needs assessment for homeless people, while others looked at A&E attendance and delayed discharge.
Real culture change
Back in Lancashire, Karunanithi acknowledges that the new focus on population health management has meant a real culture change – a significant challenge even in an area which is relatively advanced in terms of collaborative working across a region. In the past, he points out, there has been limited information sharing even across different parts of the health service, let alone bringing in council data as well.
Care and attention has had to be given to issues such as governance, ethics, and safety, which can be tough when you're working with organisations that have different legal frameworks.
At a wider level, it has also involved looking at the way services are commissioned, moving away from contracts where payment depends on the number of people seen.
"We're going from volume to value," says Karunanithi.
Lancashire and South Cumbria started small, focusing on just five of its 41 neighbourhoods. The aim now is to roll it out to the remaining areas. One key lesson is that, important as the data is to population health management – and it's vital to get it right – the actual information is a very small part of the overall process.
"The data is 10 per cent of it; the remaining 90 per cent is people," he says. "Of course that 10 per cent is very important, but it's not the whole story."
---
There is a great opportunity here, but there are also challenges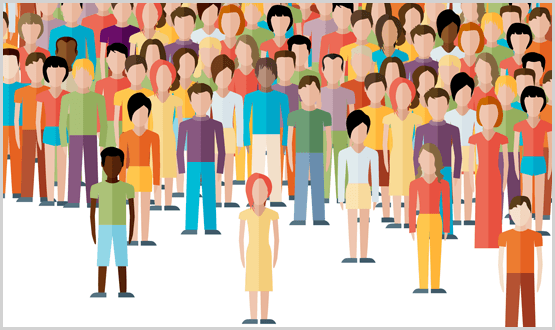 By Cerner
Population health management is a real opportunity for the NHS, but the health and care system needs to take a major step forward to ensure the potential is realised.
Elaine O'Brien, senior population health strategy executive at Cerner, is calling on leaders to "be brave" and create the systems and culture to make change happen.
"The key message is that integration of data is not enough," she says. "It doesn't solve the problem that health and care services face. We need to move from just collecting and storing information to turning it into insight and action."
Taking more ownership
Cultural change is necessary, she stresses. "It's about taking more ownership. We need individuals to be able to look after themselves better, and that's quite a shift in culture, but we also need professionals that are able to work in different ways and across many, many different services. To accomplish this we need to ensure we're providing them with the right tools to support decision-making and take unnecessary burden off their shoulders."
Building in the capacity to interpret and apply data is crucial to well-designed integrated systems, and O'Brien believes that population health management should be an essential element in the multi-disciplinary team approach to healthcare. "My vision is that the analyst and the technologist will be involved in this approach, working alongside clinicians and other care professionals. "Their experience and knowledge need to be shared within that team and give [staff] the knowledge and confidence about how to manage service provision."
Overcoming the barriers
There are many facets to making this happen, including developing systems and organisations that are digitally mature and have overcome potential barriers, such as a lack of interoperability. But she also calls for bigger, systemic changes, for example the creation of effective and truly integrated health and care partnerships where all providers are incentivised to improve wellbeing over the long term.
"We want people to live longer, better quality lives, driven by a health system that knows an individual at a holistic level, but also can see entire populations at scale, and drill down into the key target areas that are relevant to their populations, for example by region or demographic.
"There is a great opportunity here, but there are also challenges, and the only way to address them is by bringing all different parts of the system together, working towards a common goal: better outcomes and healthier populations."
---
Shift in mind-set, as well as in approach
By Orion Health
Realising the full benefits of population health management will take a shift in mind-set, as well as in approach.
According to Ben Wilson, product specialist lead with Orion Health, the real advantage of a population health management approach is that it encourages whole-of-system thinking. "People are challenged to think about how their daily work, processes and routines fit into the bigger picture so that transformation can be achieved at scale across a wide region or geography," he says. "Budgets and funding may be pooled which enables initiatives to be planned and managed across organisations and agencies."
Redesigning the wheel
Within the UK, the biggest barrier to greater uptake is the change management required to implement new ways of working, he warns. "In whole-of-system thinking, collaboration, rather than competition, is the overarching goal, and the difficulty is that organisational structures, policies, funding mechanisms and incentives are not all aligned to encourage collaboration."
Defining pathways across care settings and providing more care remotely requires a shift in mind-set, processes and responsibilities, Wilson adds.
Strong support and commitment from all stakeholders to align collective and individual thinking is crucial, while funding of designated areas in England to introduce Local Health and Care Records is an important step in the right direction because it comes with an expectation of collaboration, particularly in how information is safely and securely shared.
The power of the patient
Wilson says that customers want the capability to provide a data layer for a longitudinal patient record for populations, so that identifiable data sets about patients are available for the purposes of direct care, and de-identified data sets that are available for population health management. They are also asking for the capability to use analytics tools and techniques to discover, interpret, and communicate meaningful patterns across this data, and to support national initiatives for analytics and data services.
None of this can happen without the patient. "Through their behaviours, patients are the single most important factor in influencing their own health, followed by their immediate caregivers and then the health system providers," says Wilson. "Whole-of-system thinking reframes patients and caregivers as part of the team who are collaborating. Effective PHM requires strategies to reach the individual consumer or patient at all stages of life from early childhood through to old age, rather than just when they become sick."