It's eighteen months since health secretary Jeremy Hunt said he wanted a 'paperless' NHS within five years.
At a speech to a think-tank back in January 2013, he said that he wanted "all records and communications in health and social care" to be electronic by 2018.
I think it's fair to say that the idea was met with some scepticism. But since then it has become increasingly common currency.
EHI ran its Big EPR Debate last year to follow up on the idea, and NHS England has run two rounds of technology funding to put some flesh on the bones. Suppliers talk about their products fitting into the 'paperless' agenda, and some IT directors talk about their trusts being on a 'paperless' path.
At a recent Health CIO Network event, I was asked to chair a discussion on 'Paperless by 2018'. This triggered some interesting debate around whether or not there is a target, what the target is meant to achieve if there is one, and what kinds of technologies will count.
Is it a target, is it a vision?
So, in the first instance, I asked people at the summer school if they thought there was indeed a "target". One observation was that paperless is "a vision not a target".
That kind of works for me, in the same way that the suggestion that an electronic patient record is not a system, but a strategy, works for me.
However, a lot of people were worried about the date bit. They argued that if you put a date on something it's easy to assume that 'it' must be achieved; but when it comes to paperless, it is not at all clear what 'it' is.
Also, while some targets are irritating, because they distract you from what you feel you should be doing, some are useful. For example, they may focus a board's attention and make them realise they cannot avoid making an investment.
In that case, though, the "what will happen if I don't do this" question will be asked somewhere along the line; and as things stand the answer would also be rather vague.
What are we trying to achieve?
So what is 'it' that we are trying to do? Views ranged from "we will remove all paper" through "we will produce paper but scan it".
Some people suggested that "internally there will be less paper", but the real measure of paperless will be "communicating with others electronically, presumably through messaging".
A number of key points were raised in connection with this:
We need to deal with the external communications; and not send out paper to either health professionals or patients
We need to move away from the reliance on paper casenotes in care settings
We need to get out of managing expensive storage, retrieval and logistics operations.
Clearly, even if we can remove all the paper from our operations, we cannot do it in one go. We will continue to receive paper from some sources, and we will need ways of ingesting that and putting it into a seamless workflow.
We will also need to produce hard copy for those not prepared to go electronic; and there may be quite a long tail on this when we consider the needs of patients. So what options are there for a migratory approach?
Does scanning and EDM have a place?
Whatever we do, it would seem that some scanning and electronic document management will be involved.
Many of us have hundreds thousands of records sitting in libraries that will either be required for clinical review or that must be retained under guidance and policy for a number of years.
We may not scan all of this right now, but it has to be available to be brought into a paperless process at some point – should it be required.
In the sessions that I chaired, there was a minority view that any scanning would just be "back scanning"; in other words, that we'll only scan to obtain relevant history, and that any future data will be collect in real time via mobile devices such as tablet computers.
It's undoubtedly the case that there will be more tablet devices on wards, and that some of them will be owned by the staff themselves (thanks to 'bring your own device').
But it's worth noting that many of us struggle to refresh our PCs and so on at the required rate. Building a business case for a big expansion will take time.
Trusts will also need to see the development of suitable apps for all these new devices; and to be shown that they are going to deliver a suitable return on investment.
Having said that, a personal observation is that if we" forward scan" – and, in particular, if we allow easy access to scanning – we will create an undesirable process. We will end up holding scanned images when we wanted data.
For example, if we allow people to scan things such as diagrams, they will immediately ditch the on-line process and revert to the pen. The benefits of the data need to be highly visible to that individual user in order to change that.
Where will the devices and software come from?
If we are not going to produce paper in the future, we will also need slick, forms-based software that can pre-populate any known data and store it in proper data model, without duplication, so it can be used by other applications and for reporting purposes.
This software must have the validation controls present in traditional hospital software; and, unfortunately, these are the things that can make this traditional software cumbersome.
There are hundreds of forms in patient notes; so this piece of the paperless project will take careful analysis and design to get right.
Some of the people at the discussion felt there was room for digi-pens and voice recognition, and it may be that this will lower the barriers to acceptance for some users.
However, all data entry suffers from the same basic rules and constraints; namely, it must not be too cumbersome and must result in good data. Although advances are being made in the analysis of unstructured data, when you really need to report on it, it has to be validated and in the right place.
Is it all going to be worth it?
It's easy to get excited about the idea of paperless, which may be why it is catching on. However, one thing we know about paper is that it has been around for a long time and has a great user interface.
It tends to be quite fault tolerant; even if the back-up options are generally poor and tend not to be implemented. The current system is not perfect, but it's a good idea to bear its good and bad points in mind when thinking about a major change.
In particular, it is worth asking whether we should doggedly pursue the extinction of paper when it may be fit for purpose when it is just in transient use.
Even so, the benefits of paperless systems are generally fairly obvious:
Resilience and backup
Access control and security
Multi-user multi-location access
Re-use of data; reduced duplication
Ability to move to structured data for analysis.
These benefits are already visible in other walks of life. So the only questions here are the definition of paperless, how we 'do' it, and how we support clinical users and workflows as we go. Giving all our clinicians iPads (non-fruit based tablets are available) does not come close to solving the problem.
In money terms, the business case for getting out of the library business is clear (the cost of pulling, transporting, preparing and re-filing a set of casenotes makes interesting reading); and depending on how they are used within a paperless context, other technologies can have a positive return.
What are the risks?
The enthusiasts for paperless sometimes seem to assume that all these benefits will come with another plus; an automatic improvement in safety and quality.
There's no doubt that well implemented software systems can reduce certain harms and deliver a better result overall. However, as with any system in clinical practice, we shouldn't overlook the possibility of new risk; even if this can be difficult to fathom against existing risk.
The groups in our discussion were aware of the potential for creating "noise" in the system by having copies of data and presenting a "mess" of scanned images and other data to users.
Whether trusts opt for large or small amounts of scanning, the management of the transition from paper to scanned images will be an important factor in success.
In addition, even in 2014 it is difficult to obtain some data in purely digital form. Getting to the point of being able to obtain it may mean replacing a large number of pieces of equipment, such as ECGs.
Even those analysers with an electronic output sometimes still require rather proprietary converters to pass the data over a network. There will be a long tail of work to create a truly paperless environment, it will crop up in unexpected places, and it will create risks that we'll need to address as we go.
A practical factor discussed by the group was the capture of signatures for consent. It seems that various apps are now emerging that will allow patients to sign on computer tablets. The legalities of this will require further testing, and it would be nice if this could be done once for the NHS and approved.
So where now?
Whether we regard 'Paperless by 2018' as a target or not, we should regard it as an aspiration. Every organisation should set a sensible definition of what it means for them; and use it for leverage whenever possible.
We should use the paperless idea to intelligently do the right things. That, after all, should always be our aim.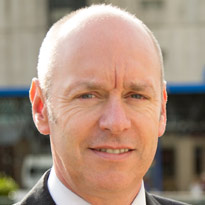 Adrian Byrne
Adrian – Ade – Byrne is director of IM&T at University Hospital Southampton NHS Foundation Trust which, he says, has been working on its IT environment for 15 years.
On his LinkedIn profile, he says its aim is to "build an electronic patient record with full decision support, sharing data across disparate, so-called best of breed systems." The trust is also developing a patient record and services, built on Microsoft HealthVault.