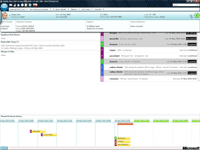 Microsoft UK has revealed the first fruits of its four year £40 million collaboration with NHS organisations to develop a Common User Interface for clinical applications, together with tailored versions of Microsoft applications for the health service.
The CUI programme is designed to help ensure that critical patient data such as drug information is displayed in a standard way improving staff efficiency and patient safety.
Adoption of the CUI should help ensure clinicians do not have to relearn systems every time they move. The CUI is intended to help the NHS get the most out of its investment in IT, by making it easier to roll out, maintain and use
At a London press demonstration last week Microsoft showed early screens from its new health service interface, demonstrating the potential benefits of a standard patient overview, together with prescribing screens that enable clinicians to easily identify the right patient and ensure they get the right drugs.
The demo included the first public sight of tools for improved clinical note taking, that include automatic prompting to allow notes to be coded with appropriate SNOMED CT codes at the point of capture. A vital step in the development of electronic patient records, and providing clinical knowledge support at the point of care.
The aim explained Andrew Kirby, Microsoft's head of the CUI programme is "to ensure consistent note taking with meta tags included".
The programme has started with basics such as providing a standard date and time format and standard patient information bar. Microsoft stresses that the CUI initiative is "not about creating clinical applications" or even a presentation layer but providing a resource for clinical ISVs (independent software vendors) to use
The main aim of the CUI project is to help create what Andrew Kirby, the CUI programme's director describes as a "consistent user interface" for the NHS – enabling healthcare applications to become more standardised and easy to use.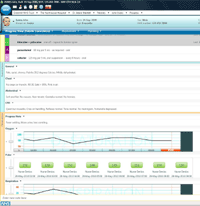 Kirby told E-Health insider that by the end of the month Microsoft will have complete or nearly completed 40 of the 120 modules it has identified as core to the CUI. These will now start to be submitted to the NHS Information Standards Board for accreditation and approval.
The project includes two main strands, a Design Guide which describes how things should be done and the NHS Software Development Kit that provides the components for ISVs to easily turn the Guide into software.
Kirby said that clinical ISVs can now freely take components from the NHS Software Development Kit and incorporate them into their software. "This builds on the Microsoft approach of common controls, basic building blocks that allow you to do things very rapidly."
He said that although all the work on the CUI programme currently focused on clinicians, the project may ultimately take in patient views of records: "Within 2 years we could be looking at CUIs for citizens as well".
Microsoft has drawn heavily on its experience of developing some of the best known user interfaces currently available and using some of the latest developments in "use of adaptive layout techniques" and "intuitive presentation techniques".
The US software giant says that the NHS CUI project is a case of "enlightened self interest", and will enable independent software vendors to deliver an 'NHS-specific user interface'. Microsoft's development of CUI formed part of its November 2004 Enterprise Agreement with the NHS for a £500m, nine-year deal with three-year breaks for 900,000 licences.
To date over 60 NHS trusts and about 180 clinicians have been involved in the project which is currently scheduled to run until 2008/2009.
Though not mandated by the NHS Microsoft believes that the benefits of CUI will prove compelling and both trusts and their suppliers will adopt it widely over the next few years. Ultimately the NHS might make it a requirement for systems accreditation.
John Coultard, Microsoft UK's head of health, told EHI that CUI could well become CfH boss Richard Granger's most significant achievement. "This could become seen as Richard's legacy of his time at CfH."
"In the future I do see us having a single user interface for clinical applications across the NHS". He added that there was huge interest in the project internationally. "CUI is now a complete user interface that will create a step change in the development of clinical applications and their availability."
The complex CUI project also includes strands to enable NHS staff to make the most effective use of existing Microsoft Office applications by integrating clinical components and knowledge resources into them. This includes integrating resources such as the British National Formulary into the new Research Pane in Office 2007.
In addition an NHS Abbreviations Manager has been created that will automatically ask the user covered by an abbreviation that they type and ask them to code it appropriately. Microsoft is also looking to see whether adding and NHS spellchecker is also possible.
CUI builds on standard Microsoft components, building on the .Net platform and AJAX extensions.
http://www.microsoft.com/uk/nhs/improving-healthcare/cui/default.mspx