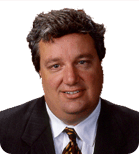 Jeff Townsend
Cerner's vice president
in charge of R&D
US healthcare IT giant Cerner is looking to support "innovation at the edge by users" in a move that mirrors the thinking of the best-selling book on Web 2.0, Wikinomics.
Jeff Townsend, the man behind the initiative, is also linking it to a more local, more configurable approach to deploying the company's systems in the NHS. He spoke to Jon Hoeksma.
Cerner has a reputation for being one of the corporate behemoths of the healthcare IT scene; and for having a very strong Cerner view of the world.
This has not always made the company or its chief executive Neal Patterson popular, but it has helped make it very successful.
Now, however, the company claims to be putting together a bold plan to harness the uncertainties of the Web 2.0 world, in the hope of reaping the benefits crowd-sourcing, and put the users of its systems in the driving seat of future development.
Here comes users
In an interview with E-Health Insider, Jeff Townsend, Cerner's vice president in charge of R&D and the man Cerner's UK managing director reports to, said the company is aiming to invert much of its $300m annual R&D effort to support "innovation at the edge by users."
"Our aim is to get out of the conference room into the field," he said. "That is where the real learning is happening." To this end, a new collaborative platform called uCern is being tested by Cerner and its associates.
Townsend said uCern will include blogs and wikis and enable clients to create user groups. He acknowledged that the user generated content and feedback "will prove uncomfortable for some people."
However, he predicted this would change over time, and said "it should be disruptive" if it is to deliver the benefits that are hoped for it.
Cerner is also planning to launch its own version of Apple's Appstore as part of the new collaborative network. "It's a metaphor for gadgets and customisation," explained Townsend. "As we move to more local implementation, we would want to create more applications out at the edge."
Asked whether Cerner has descovered Wikinomics, Townsend simply says: "Yes." Indeed, the co-authors of Wikinomics – the bestselling management book on Web 2.0 collaborative economics – spoke at the last Cerner annual conference.
"We're not talking about open source but ongoing collaboration. Our aim is to move from bringing users and together for a three-day annual conference in Kansas to something that happens every day," said Townsend.
The platform is already in use within Cerner. "We're eating our own dogfood," he jokes. It will be launched in the UK "by early summer", with a full roll-out by Cerner's autumn conference.
A new approach for the NHS
Cerner is linking its increasingly collaborative approach to the changed environment in which it will be deploying its Millennium software to hospital trusts in London (and some beyond the capital, outside the National Programme for IT in the NHS).
Early implementations of a locked-down, standardised Millennium product went badly awry at first Barts and the London NHS Trust and then the Royal Free Hampstead NHS Trust.
Royal Free instituted a 90 day recovery plan, with intensive support from the London Programme for IT, BT and Cerner to fix 22 known problems. Until this was declared a success in February, further deployments of Millennium in the capital were halted.
Townsend said much had been learned and changed as a result, and a more flexible implementation approach, based on far more local configuration than had first been envisaged, had proved itself at the Royal Free.
Cerner says it is now working with NHS trusts on this new implementation model, which also focuses on the delivery of clinical benefits.
The uCern platform is intended to help by providing a way for trusts to spread learning and experience, so mistakes made in one implementation are not repeated in others.
"We see that happening by bringing trusts together," Townsend explained. "We are rolling out a collaborative platform for early successes, if trusts agree to participate. It's more like a Facebook collaborative platform."
A career with Millennium
Townsend joined Cerner in 1985 as a programmer analyst. After leaving Cerner for a few years to lead a family-owned business, he rejoined the company as project manager for Cerner's strategic systems, becoming chief engineering officer before moving into his present role.
As chief engineering officer, he oversaw the product development of Cerner Millennium. Townsend has also been involved in the NHS IT programme since the original bids in 2003, when he led the successful Choose and Book tender for Cerner with Atos Origin.
He says that the NHS remains Cerner's most advanced customer and strategically the most important; since digitising the health service could change the whole health economy.
But he acknowledges that while this remains the vision, getting there is still some way off. Most immediately, Cerner needs to show its system can be implemented in London hospital trusts without a repitition of the high profile problems that hit it in 2008.
"We are confident we will find a way to a more agile approach," Townsend said. "We have a very flexible system."